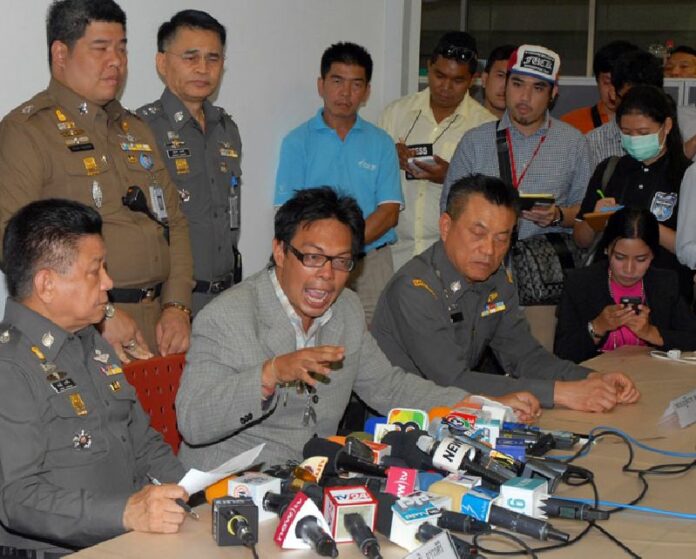 BANGKOK — The man behind a Facebook post that purportedly predicted the deadly bombing in central Bangkok four days in advance met with police today to affirm his innocence in the plot.
Before answering police questions at Bangkok's Technology Crime Suppression Division, Pongpob Boonsaree, 36, told reporters this afternoon he wasn't the original author of the seemingly prescient message and only reposted it out of anxiety.
"I was suspicious from the message, and I felt that something bad may happen, and I was worried about ordinary people, so I reposted the message on my Facebook," Pongpob said, flanked by officers. "I didn't expect that something would really happen."
Pongpob confirmed he is indeed Facebook user "Wichawate Pornpromraksa," which posted a status on Thursday warning people in Bangkok to beware of an unspecified incident between Friday and Tuesday.
Original message warning of unspecified incident and warning Bangkok residents to be careful.
Four days later, a powerful bomb struck the popular Erawan Shrine in downtown Bangkok, killing 20 people and injuring more than 150. The post then went viral through social media, drawing suspicion he may have had advance knowledge of the blast.
The next day, junta chairman and Prime Minister Prayuth Chan-ocha told reporters he had instructed security officers to track down the person behind the prophetic remark for questioning.
"I have already instructed them to summon the posters. Right now we are looking for them," Prayuth said Tuesday.
Speaking to reporters today, Pongpob said he set the message as his status after copying it from another user called "kaler," who had posted it in a Facebook group that draws political discussions.
Pongpob said he was working at the office when the blast took place.
"If I was really involved in the incident, I would have fled already," he said. "Why would I surrender myself to police and insist my innocence today?"
Police lead Pongpob away after he addressed the media this afternoon.
He chose to deactivate his Facebook account, he said, because many people reported it to Facebook administrators. He said he is willing to cooperate with the police in any way he can, such as pinpointing where he first saw the message.
Asked about his political persuasion, Pongpob said he self-identifies as a Redshirt, whose members generally support the government toppled by the current military junta in May 2014.
"I admit I am a Redshirt," Pongpob said. "I support democracy, but I do not oppose the government or NCPO," referring to the junta's formal name, the National Council for Peace and Order. "I am very sad about the bombing. I feel sad for all victims. Thailand is also a victim."
Pongpob added that he hopes authorities won't use his case to paint the entire Redshirt movement as "rumormongers" because of his action.
He was then taken away by police officers for interrogation. As of the time of this writing, it is unclear whether he would face any criminal charges.
Related stories:
Bangkok Bombing: Junta Chairman Misquoted by AFP
To reach us about this article or another matter, please contact us by e-mail at: [email protected].