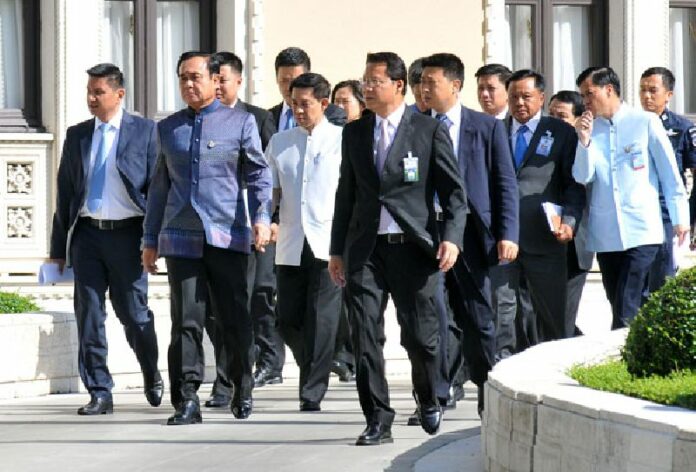 BANGKOK — Observers are expecting an imminent and major reshuffle to the military government after junta chairman and Prime Minister Prayuth Chan-ocha submitted a list of new ministers to His Majesty the King for a formal endorsement.
Gen. Prayuth, who came to power by seizing power from the previous government in May 2014, said yesterday he has already presented the new Cabinet list to King Bhumibol, who is recovering from poor health at a Bangkok hospital. It is the second Cabinet reshuffle since Gen. Prayuth was appointed prime minister by his rubber stamp parliament in September.
Cabinet reshuffles in Thailand are considered official and final only with the king's signature, though the gesture is strictly ceremonial. Per tradition, officials do not release the list until it is formally endorsed by the king, so the appointees are unknown to the public at this time.
Maj. Gen. Sansern Kaewkamnerd, a government spokesman, said the reshuffle is necessary to meet new challenges and obstacles in the administration.
"In the past year, Thailand has been through many situations that challenge the administration, many issues, and all of them are major issues," he said. "We can say the challenges we faced are bigger than all previous governments."
The spokesman also said Prayuth values the talents of every cabinet member.
"Everyone is equally important, but it's just the time is different now," he said.
Nevertheless numerous media reports in recent weeks have indicated the axe will most likely fall on Deputy Prime Minister Pridiyathorn Devakula, who is responsible for drafting economic policies of the military government and Finance Minister Sommai Phasee.
Slow growth and other economic malaise have prompted several politicians to call on the government to replace the existing economic team with a new one, including former Prime Minister Abhisit Vejjajiva and former Pheu Thai MP Nattawut Saikua.
On Monday, the National Economic and Social Development Board reported a 2.8 percent increase in second quarter GDP. It also cut this year's growth forecast to 2.7 percent to 3.2 percent from an earlier prediction of 4 percent.
Pridiyathorn was seen arriving at Government House and talking with Sommai for about 20 minutes before leaving without granting an interview to the media. Sommai later told reporters he was discussing unspecified work matters with Pridiyathorn.
"If we are to go, I am ready to go. It doesn't worry me," Sommai said, adding that he had not seen the list of proposed new members.
"You have to wait for the Prime Minister to explain about it in detail," he said.
To reach us about this article or another matter, please contact us by e-mail at: [email protected].