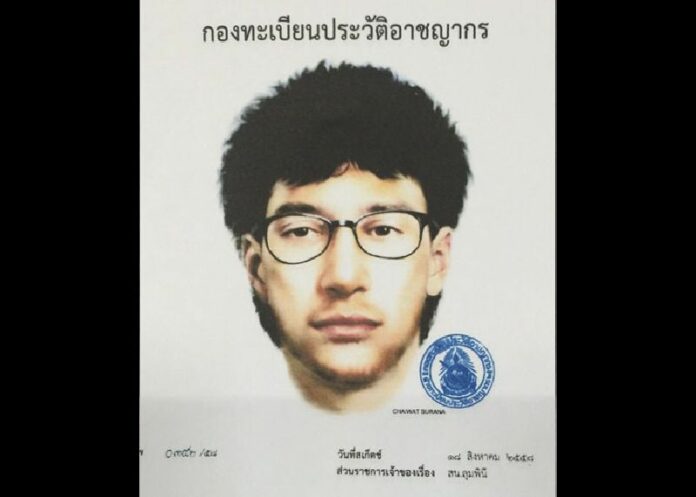 BANGKOK — Authorities have put a 1 million baht bounty on their chief suspect in Monday's devastating bomb attack which killed at least 20 people and injured more than 100 in the Thai capital.
Two days after a man was seen leaving a backpack at the Erawan Shrine minutes before the blast, police this afternoon issued a composite sketch of the suspected bomber partly based on an eyewitness and announced the bounty for information leading to his arrest.
Read: Bangkok Shrine Bombing: Those Who Died
"We will ask for an arrest warrant based on the sketch from the CCTV," police spokesman Prawuth Thawornsiri said this afternoon. "We will charge him with causing the explosion and premeditated murder."
Still images of suspected bomber released yesterday.
The sketch of the so-called "yellow-shirt man" shows a curly haired man with indeterminate Asian-European features. He has a thick black shock of hair. National police chief Somyot Pumpanmuang speculated he might have been wearing a wig at the time of the attack.
He was seen on security cameras entering the shrine area at the corner of a busy intersection in downtown Bangkok during peak traffic. The blast ripped through worshipers making merit and praying as well as passers-by on the sidewalk.
The suspect departed the area on a motorcycle taxi.
Prawuth sought to dispel several accounts of what happened next that have filtered out through various media.
He denied as untrue Thai media reports the suspect traveled to Soi Silom 9 before hailing a taxi to Don Mueang Airport.
Prawuth said police had interviewed the unidentified motorcycle taxi operator, who contributed details used in the the composite sketch.
"Based on his testimony, it was not Silom as we understood. But we cannot tell you where it was," Prawuth said. "This witness is also a part of why we can have the sketch, because he saw the suspect at close range."
That account and another clear photo of the suspect taken from another camera, the spokesman said, is why the quality of the sketch is much higher than seen in the grainy security footage.
Early reports of a Thai suspect likely relate to the person seen in the CCTV video standing up from the bench just before the suspected bomber sits down.
"If you watch the video, you will see that there's also another person saving the spot for him. It could be a target spotter," he said.
A reporter asked if reports were true the motorcycle taxi operator said the suspect could not speak Thai.
"I cannot answer that," he said. "If the suspect disguised himself, wore a wig, put on fake nose and spoke Arabic, we wouldn't know if he's really [a foreigner] anyway."
Is the suspect believed to still be in the kingdom?
"I hope he is," he replied.
The Erawan Shrine reopened this morning as police announced they'd widened their hunt to include possible Thai co-conspirators in the attack.
In footage of the attack, the man enters the shrine area about 15 minutes before the blast, when it is packed with worshipers and foreign tourists. He immediately slips off his backpack after sitting on a bench and departs seconds later while using a smartphone. He turns left on Ratchadamri Road in the direction of the Erawan Hotel.
This story has been updated with additional information.
Related stories:
Police Widen Hunt for Bombing 'Network'
Bangkok Shrine Bombing: Those Who Died
Day in Photos: Expressions of Grief, Unity After Terror Attacks
Briton Dies in Bangkok Shrine Bombing
Despite Lack of Evidence, Thai Media Points Blame at Uighurs
Tourists Narrowly Escape Second Bangkok Bombing in 24 Hours
Bangkok Shrine Bombing: Police Hunt Backpack Man
Tourists Among 19 Killed by Bomb at Bangkok's Erawan Shrine
To reach us about this article or another matter, please contact us by e-mail at: [email protected].