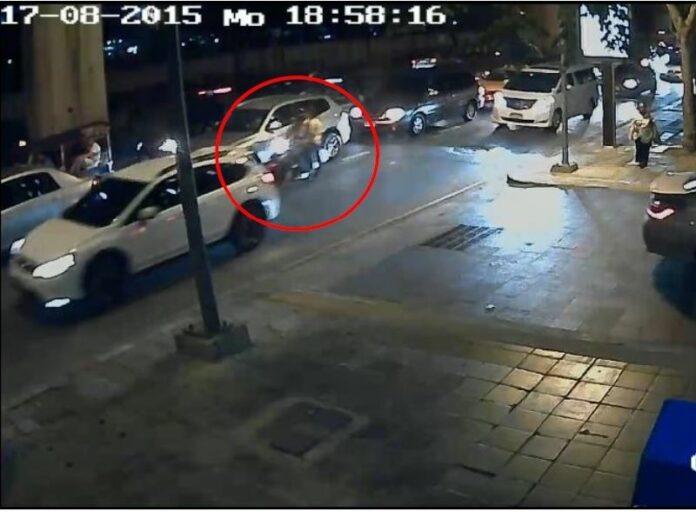 BANGKOK — A day after the Royal Thai Police chief blamed his so-far fruitless investigation into the Erawan Shrine bombing on faulty security cameras, city officials today accused him of wild exaggeration, insisting nearly all its cameras work.
Speaking to reporters today, top city officials rejected claims the investigation was hampered by inoperable cameras near the crime scene, saying the metropolitan administration went so far as to bend the rules to help police, despite a lack of appreciation.
"In all previous criminal cases, [police] collected evidence by watching our CCTV footage, but the [Bangkok Metropolitan Administration] was never thanked by any relevant agency," said Police Maj. Gen. Wichai Sankhaprapai, adviser to Bangkok Gov. Sukhumbhand Paribatra. "In fact, requesting footage from BMA cameras require documents for permission, but BMA sometimes even relaxed this rule for police."
Wichai and two other city officials denied yesterday's assertion by Police Gen. Somyot Pumpanmuang that upward of 75 percent of cameras checked by police didn't work, saying that a check of 107 cameras in the area around Erawan Shrine found only four broken, which the city has since fixed.
Somyot's comments yesterday, however, seemed directed at CCTV units installed to the south of the shrine along the escape route used by the yellow-shirted man seen leaving a backpack inside the shrine minutes before the blast, which killed 20 people and injured more than 150 others.
"Let's say, suppose there are 20 cameras along the escape route, 15 of them don't work. Only five work," Somyot said. "That's why we have to leap between images. So much is missing. Police have to use their imagination to fill in the blanks. We had to waste our time imagining things."
According to an internal police report seen by Khaosod English, the suspect was last seen captured on CCTV near Sarasin intersection, riding on a motorcycle taxi toward Sala Daeng intersection. No footage beyond that point has been divulged.
None of the expected CCTV-sourced leads emerged in the days after a second bomb exploded near Sathorn Pier, a bomb originally thought thrown from above. Only on Saturday, two days after investigators were seen throwing bricks from a bridge to test their theory, did footage emerge of a man appearing to place a device in the water the night before the blast.
Wichai enumerated 48 times that security offices have asked the administration to review footage from those cameras since the 18 Aug. bombing, though he did not elaborate whether any of it proved to be relevant to the investigation.
He also lashed out against criticism by some social media users about the poor quality of the city authorities' CCTV footage of the bombing suspect, compared to the high-resolution images captured by traffic cameras to identify law-breaking motorists.
"There are many types of cameras, such as cameras for security and cameras for traffic. You have to look at each type of camera; how they work. You can't just look at license plate cameras and generalize that other types have to be clear like that," Wichai told reporters.
Bangkok has installed more than 40,000 CCTVs since 2009, according to data provided by city hall, though the reliability of those cameras has fallen into question in years past.
Former BMA Gov. Apirak Kosayodhin revealed in 2011 that hundreds of CCTVs were in fact empty "dummy cameras" installed because money ran out. Bangkok officials said all of the dummy cameras have been replaced.
Following a high-profile murder of Olympiad shooting athlete Jakkrit Panichpatikum in October 2013, it emerged that 20 BMA cameras in the area where Jakkrit was shot did not work. Officials said the cameras were real, just not plugged into the electrical system.
Earlier today Minister of Interior Affairs Anupong Paochinda urged the BMA to ensure that all its security cameras work for future criminal investigations. Wichai, the BMA official, said he acknowledged Gen. Anupong's concerns.
"I understand that the Minister, as a commander, is worried about the country, and worried about the operation of all units. That's why he instructed us to take care [of those cameras]. I don't think he's criticizing the BMA," Wichai said, "The governor has already passed down the instruction."
Related stories:
Leaked Police Report Tracks Lead Suspect Before, After Bombing
Man Dropped Bag into Water Night Before Sathorn Pier Blast
Police Blame 'Fake CCTV' For No Footage of PCAD Stabbing
To reach us about this article or another matter, please contact us by e-mail at: [email protected].