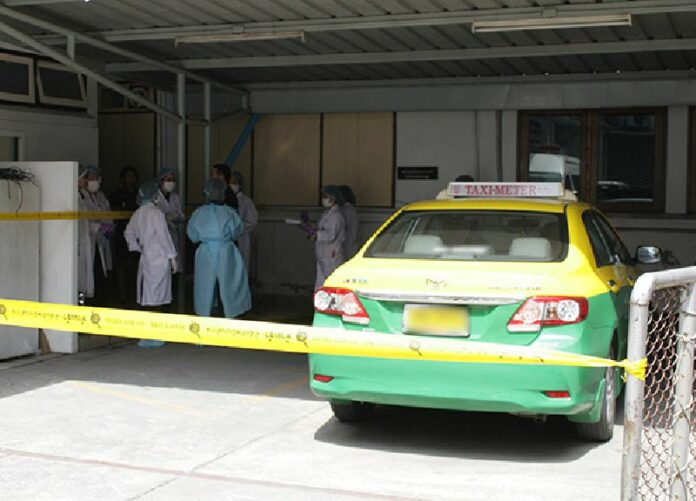 BANGKOK — A taxi driver who reportedly picked up the lead suspect in last week's Erawan Shrine bombing told the press today he's confident the man was a foreigner.
Speaking to the media today while delivering his taxi for examination at the Office of Forensic Science, the driver said he picked up the yellow-shirted man police believe to be the bomber and dropped him off near Hua Lamphong Railway Station less than two hours before the bomb exploded, killing 20 people and injuring scores more at the shrine.
"As far as I can recall, his appearance and demeanor looked like a farang," said the cabbie, who requested that his name be withheld.
CCTV footage released after the attack showed a yellow-shirted man walking to the shrine, putting down his backpack amid the crowd and walking away just minutes prior to the explosion.
---
Bangkok Shrine Bombing: Those Who Died
---
The driver said he picked up the yellow-shirted man from Sala Daeng intersection in the Silom area between 3pm and 4pm on 17 Aug. He said the man spoke a few words in Thai with a foreign accent.
"When I picked him up, he acted normal. He didn't say the words 'Hua Lamphong' clearly. It's sounded like a farang speaking Thai," said the driver. "When he got out, he paid the fare. He gave me a hundred baht bill. During the ride, he didn't say anything. I didn't notice if he had any belongings."
Before reaching the destination, the man indicated he wanted to get out by saying "jod," or stop, again with an accent.
The driver was adamant about one thing: "I assure you, he's not Thai."
The CCTV footage and composite sketch of the suspect struck many Thais as Eurasian-looking, mostly due to his light skin. In Thailand, persons with lighter skin are often thought to be foreigners at first glance.
Several media agencies and possible witnesses also described the alleged bomber as khaek khao, which means "White Arab."
However, police have yet to publicly conclude whether the suspect is indeed a foreigner.
The taxi driver added that he had given testimony to police officers at Lumpini Police Station and the Metropolitan Police Bureau.
The police investigation appears to have made little progress since the attack, with top officials acknowledging the perpetrator or perpetrators may have already fled the country.
The chief suspect was last known to be seen minutes after the attack riding back toward Sala Daeng, and most revelations have pertained to piecing together the suspect's movements prior to the attack.
The taxi driver's account unwinds the suspect's trail that night back to Sala Daeng, where the taxi took him near the train station. After that he is believed to have taken a tuk-tuk from a location a five-minute walk away to the scene of the crime.
Placing him back near Sala Daeng fits a pattern of activity and possible sightings in the area of lower Silom and Sathorn roads, where several witnesses said they gave rides to a man shown to them in immigration and passport photos by investigators between December and March.
Another man was seen walking down Sathorn Road on Monday night minutes after the blast to place something in the water near Sathorn Pier, where a device exploded the next afternoon.
Related stories:
No Longer Whole, a Family Buries its Dead and Waits for Answers
City Officials Bridle at Claims of Broken CCTVs
Bangkok Bombing Dragnet Yields 142 Unrelated Arrests
Bangkok Bomber May Have Fled Thailand: Police
Man Dropped Bag into Water Night Before Sathorn Pier Blast
Seen Often on Sathorn 10, Suspect Thought to Use Fake Turkish Passport
Leaked Police Report Tracks Lead Suspect Before, After Bombing
1M Baht Bounty for Bangkok Bomb Suspect
Police Widen Hunt for Bombing 'Network'
Bangkok Shrine Bombing: Those Who Died
Day in Photos: Expressions of Grief, Unity After Terror Attacks
Briton Dies in Bangkok Shrine Bombing
Despite Lack of Evidence, Thai Media Points Blame at Uighurs
Tourists Narrowly Escape Second Bangkok Bombing in 24 Hours
Bangkok Shrine Bombing: Police Hunt Backpack Man
Tourists Among 19 Killed by Bomb at Bangkok's Erawan Shrine
To reach us about this article or another matter, please contact us by e-mail at: [email protected].