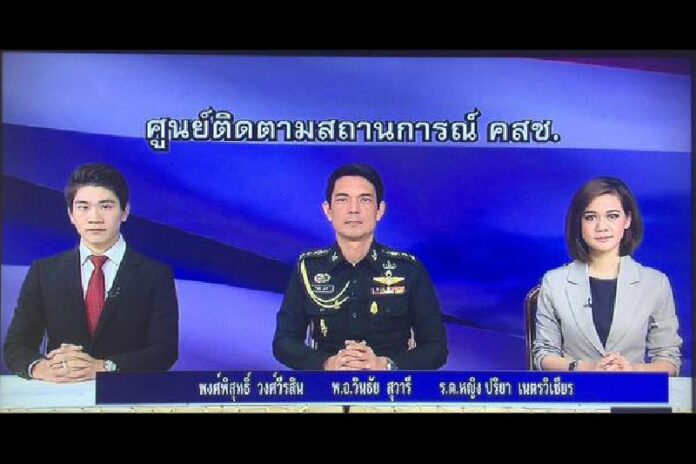 BANGKOK — Thailand's military government has urged owners of guesthouses and apartments to report any "suspicious" people today and said it has made more arrests related to last month's bombing of the Erawan Shrine.
Col. Winthai Surawee said the military interrogation of a man arrested Saturday at an apartment in eastern Bangkok had led investigators to apprehend additional suspects and called on the public to report "supicious' people to the authorities.
"To help the ongoing investigation, we ask for the cooperation of the owners of residences, guesthouses, and apartments to notify the military or police officers or call 1515 if any suspicious individual stay at your premises," Winthai said.
Winthai did not elaborate with any details of the arrests mentioned, nor did he qualify what basis should be the basis for reporting people.
Surawee also confirmed the investigation's first named suspect, Wanna Suansan, is in "another country" and had contacted authorities.
When soldiers yesterday searched Wanna's family home in the southern province of Phang Nha province, a family member contacted her via the Line chat app at their request, according to a neighbor. She reportedly responded that she was in Turkey. Her family said they hadn't seen her in three months.
The neighbor, who asked to not be identified by the media, said Wanna is being used as a scapegoat.
"I want everyone from relevant [agencies] to come and meet Wanna's parents in person," she said. "They will know that how pitiable they are, as ordinary villagers, now that their daughter stands accused by society and branded as one of the perpetrators. I am afraid that my friend is now a scapegoat."
Security forces interview the family of suspect Wanna Suansan at their home in Phang Nga province.
Thai officials have avoided any mention of Turkey and have encouraged the media.
"We ask all media for cooperation in refraining from publicising news based on assumption or speculation without authorised information from officials," he said. "Doing so will mislead the public, which may cause panic and anxiety and create a negative image of Thailand."
A warrant was issued yesterday for Wanna and an unnamed foreign national. Both were linked to an apartment in the capital's Min Buri district where a raid Saturday night turned up a cache of suspected bomb-making materials.
Winthai said several rooms there were rented in Wanna's name, and the unidentified suspect was staying in one of them.
That raid came hours after a foreign man was taken into custody in the eastern outskirts of Bangkok. Suspected bomb-making materials were also recovered from the apartment building where the man was arrested. Also found were piles of forged Turkish passports. The man had an obvious fake identifying him as Adem Karadag, but his true name and nationality remain unconfirmed.
Related stories:
Warrants Out for Thai Woman, Foreign Man
Police Search for More Suspects After Arrest
Floundering Bomb Investigation Deepens Doubts About Competency
No Longer Whole, a Family Buries its Dead and Waits for Answers
City Officials Bridle at Claims of Broken CCTVs
Bangkok Bombing Dragnet Yields 142 Unrelated Arrests
Bangkok Bomber May Have Fled Thailand: Police
Man Dropped Bag into Water Night Before Sathorn Pier Blast
Seen Often on Sathorn 10, Suspect Thought to Use Fake Turkish Passport
Leaked Police Report Tracks Lead Suspect Before, After Bombing
1M Baht Bounty for Bangkok Bomb Suspect
Bangkok Shrine Bombing: Those Who Died
Despite Lack of Evidence, Thai Media Points Blame at Uighurs
Tourists Narrowly Escape Second Bangkok Bombing in 24 Hours
Bangkok Shrine Bombing: Police Hunt Backpack Man
Tourists Among 19 Killed by Bomb at Bangkok's Erawan Shrine
To reach us about this article or another matter, please contact us by e-mail at: [email protected].