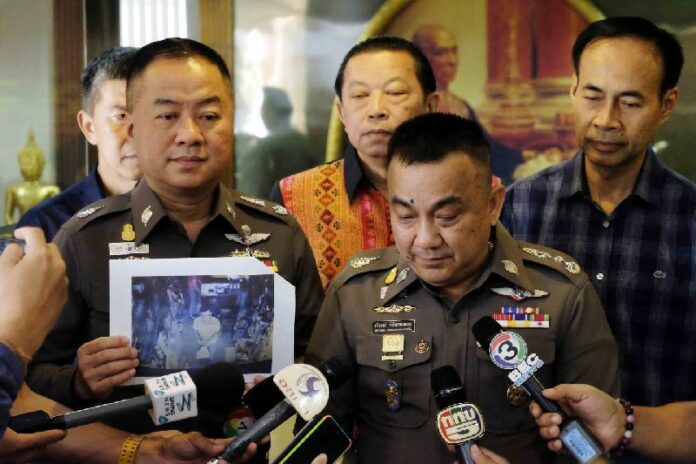 BANGKOK — Malaysian authorities have not arrested the two bombers behind the bomb attack that killed 20 people in Bangkok last month, said Thailand's deputy police chief, who reportedly flew to Malaysia without his boss' knowledge.
Chakthip Chaijinda, who is tapped to succeed his current police chief Somyot Pumpanmuang next month, made his way to Kuala Lumpur yesterday chasing rumors reported in Thai and Malaysian media that two men identified as the Bangkok bombers were arrested there Saturday.
Reports in Malaysia's The Star Online and Thailand's Thai Rath and Daily News, cited unnamed police sources and rumors who said a man arrested had confessed to being the "yellow shirt man" who planted the bomb in Bangkok's Erawan Shrine on 17 Aug.
But upon his return to Bangkok today, Police Gen. Chakthip dismissed the reports.
"There has been no arrest of the bombers," he said, explaining he had traveled to the Malaysian capital to confirm the story with police there.
"Investigation and efforts to track these two down are ongoing," Chakthip added. "I traveled there to find information about the suspects' movement. Some news reports even identified the yellow-shirted man by name. I saw it, and I was befuddled. How can the reporters know the name? He has not been arrested yet."
An apparent disconnect was evident between Chakthip and his boss Somyot, who didn't seem to know his deputy had made the trip.
While Chakthip told reporters he was leaving for Malaysia, Somyot was quoted saying he was unaware of Chakthip's visit to Malaysia, and that he had not ordered him to make the trip.
Today Somyot told reporters that Chakthip had indeed gone to Malaysia and had already reported his findings to him. However, Somyot said he still did not know who Chakthip met on his visit.
"Police Gen. Chakthip has not briefed me about who he met. It was probably a senior police officer," Somyot said.
Thai police have been hunting for a man in yellow shirt seen planting a backpack at the popular Erawan Shrine minutes before the explosion struck the site, killing 20 people.
Composite sketch released today for a man police said purchased bomb materials from a Bangkok shop prior to the 17 Aug. blast.
A new warrant for another unidentified suspect was approved by a court in the capital's Min Buri district today. It seeks a man police said purchased bomb-making materials from a store in Bangkok. Police said he is believed to be a Thai national, as he was heard speaking Thai.
Police are also seeking another man in a blue shirt who was spotted kicking a bag into a canal next to Sathorn Pier on the same night. An explosion later went off at the canal on the next day, though no one was injured.
Somyot defended his deputy's trip to Malaysia, despite expressing his lack of knowledge about it earlier. "If we didn't go there, if police didn't go there, the media would question me why we didn't go there. We went there to verify the facts."
Chakthip is due to replace Somyot as new commander of Royal Thai Police in October.
Related stories:
Bangkok Bombers Rumored to be in Malaysian Custody
To reach us about this article or another matter, please contact us by e-mail at: [email protected].