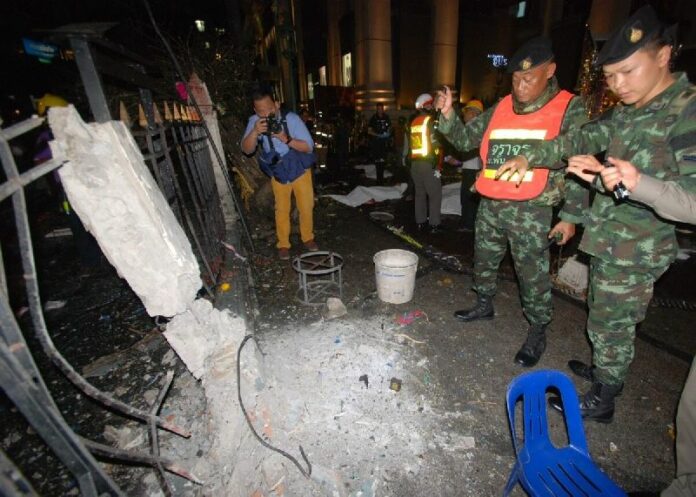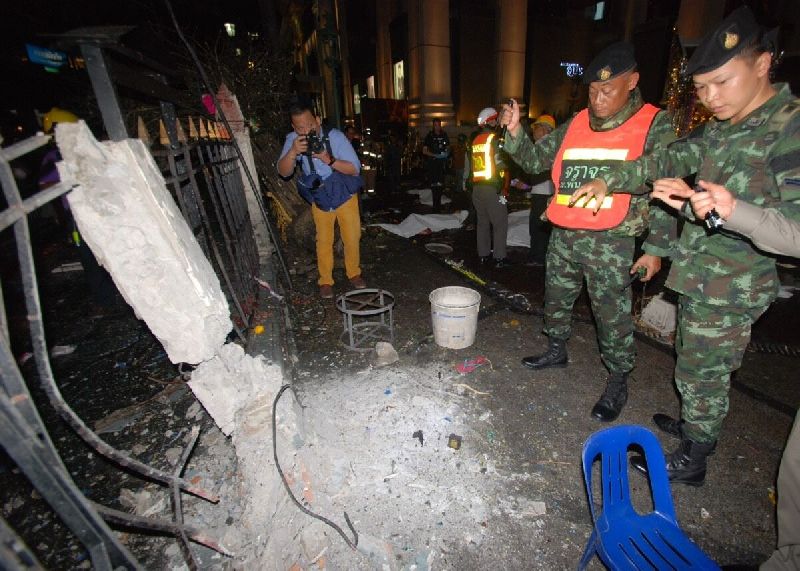 BANGKOK — After nearly three months in military custody, two Uighur men accused of staging Bangkok's deadliest terror attack in memory were charged in court today.
The two accused, Mohammad Bilal and Yusufu Mieraili, were brought to the martial court Tuesday morning, where the prosecutor charged them with 10 offenses including premeditated murder and possession of explosives for their alleged roles in the Aug. 17 bombing that killed 20 people in the capital city.
How they answered the charges was not yet apparent, as reporters were not allowed inside. Bilal's lawyer, Chuchart Kanpai, was in court and unavailable for comment today. In an interview earlier this month, he said both men had confessed to the crime.
Bilal and Mieraili were initially held in civilian custody after their arrests on Aug. 29. and Sep. 1, respectively, but were later transferred to a military facility in Bangkok and remanded there as prosecutors prepared their case against them.
Defendants can be held up to 84 days without charge.
According to police, Bilal and Mieraili engineered the bomb attack that struck the popular Erawan Shrine during rush hour on Aug. 17, killing 20 people and injuring hundreds, many of them foreign tourists.
---
Bangkok Shrine Bombing: Those Who Died
---
Authorities have played down the severity of the Aug. 17 attack, seemingly out of a preoccupation with preserving the country's inflow of tourists. Officials were instructed to studiously avoid the use of the word "terrorism" and terrorism is not among the 10 charges facing the pair.
Somyot Pumpanmuang, then-police commander, said Bilal and Mieraili were a part of a criminal network who plotted the attack as a revenge to Thai police's crackdown on illegal immigration, human trafficking and other illicit businesses.
Today they were charged with the same offenses: premeditated murder, conspiring to commit premeditated murder, possession of explosives, using explosives to commit murder, carrying weapons into a residential area, causing explosions, causing explosions that result in deaths and injuries, damaging property, possession of war materials and entering the kingdom illegally.
Bilal's lawyer Chuchart said the two men identify themselves as Uighurs, an ethnic minority group that hails from China's restive Xinjiang province. Bilal and Mieraili carried Turkish and Chinese passports when they were arrested, respectively.
Police issued a total of 17 arrest warrants in connection with the bombing, but Bilal and Mieraili were the only two taken into custody and directly implicated by authorities in the crime. Police believe others involved in its planning and execution have fled the country.
Interactive: Who's Who in the Bangkok Bombing Investigation
To reach us about this article or another matter, please contact us by e-mail at: [email protected].
Follow Khaosod English on
and
Twitter
for news, politics and more from Thailand.