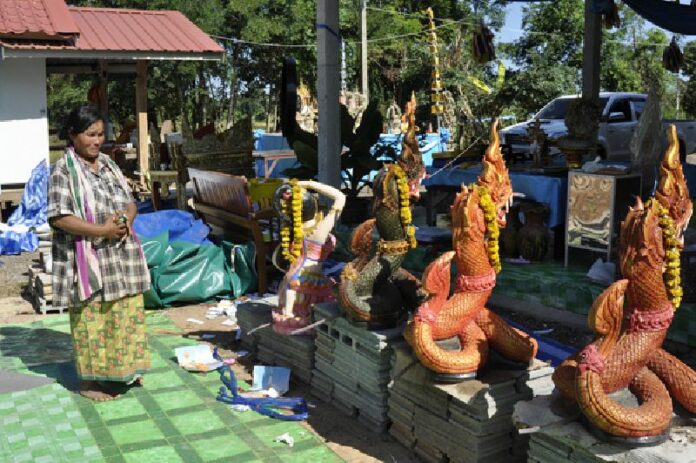 KORAT — When Phra Thep Srisuttho walked into Nakhon Ratchasima about six months ago he made a stir with folks as word of his special power spread. Srituttho, it was said, could communicate with the serpentine spirits known as Naga.
The villagers were happy to have him stay and pooled their money to build a worthy place of worship.
Yesterday, those who'd thrown their support behind the magic monk traveled to the Polkrung Police Station to complain he disappeared with more than 300,000 baht they donated.
Officers from the station inspected the incomplete temple structure Monday after the 55-year-old monk vanished, soon after his followers asked him to clarify how much money he'd received.
Yong Rattanapan, 77, served the monk closely. Yong said the self-proclaimed naga communicator drew a lot of faith and support from villagers after he appeared one day, reportedly at the end of a pilgrimage by foot from Saraburi province.
At the annual Thot Kathin merit-making ceremony on Nov. 8, Srisuttho collected about 320,000 baht, yet kept it in his possession and refused to declare the exact amount or its intended use to the temple board.
The turning point came, Yong said, when the monk told everyone the money had been spent on entertainment at a previous temple fair, which made the community furious, which is believed to have prompted his flight.