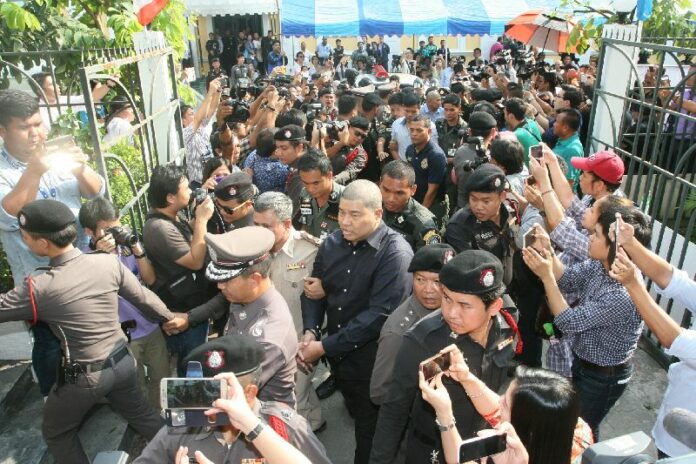 BANGKOK — Two former police officers will soon be charged with insulting the monarchy, a police commander announced today, the latest to be accused of such in an ongoing investigation.
Police in recent days have been gathering evidence to prosecute the two men, said Lt.Gen. Thitirat Nonghanpithak, commander of the Central Investigation Bureau, without disclosing their identities or details of their alleged wrongdoing.
"There's evidence that they took cuts from funds paid to the media," Thitirat said at a Tuesday news conference. "That evidence was obtained from witnesses who implicated the two former police officers."
According to a source in the police department who spoke on condition of anonymity, the officers embezzled funds used for marketing activities and public relations.
Thitirat said police will soon ask the court to issue arrest warrants for the two officers, without indicating when.
Police spokesman Songphol Wattanachai said yesterday the two were among eight officers formerly of the Crime Suppression Division who resigned after being moved to "inactive positions," the most common form of bureaucratic disciplinary action.
The eight officers were transferred Oct. 18, the same day police announced an investigation into what was described as individuals profiting by abusing links to the royal family.
---
Famous Astrologer Among Accused 'Royal Imposters'
---
Four people have been arrested in connection with the alleged crime: palace aide and famous astrologer Suriyan Sujaritpalawong, his secretary Jirawong Watanathewasilp, policeman Prakrom Warunprapha and his partner Sukkho Tamseri.
Suriyan, Jirawong and Prakrom were charged with defaming the monarchy – an offense known as lese majeste – while Sukkho faces firearm charges.
Of the three accused of lese majeste, only Jirawong is still alive. Prakrom and Suriyan died in custody at a military prison on Oct. 24 and Nov. 7, respectively.
Like other lese majeste cases and issues involving the monarchy, the ongoing investigation into the three suspects has been conducted in secret. Media agencies have been told by authorities not to report anything other than official statements and authorized disclosures.
Related news:
Further Autopsy of Lese Majeste Inmate Unnecessary, Minister Says
Famous Astrologer 'Mor Yong' Dies in Custody
To reach us about this article or another matter, please contact us by e-mail at: [email protected].
Follow Khaosod English on
and
Twitter
for news, politics and more from Thailand.