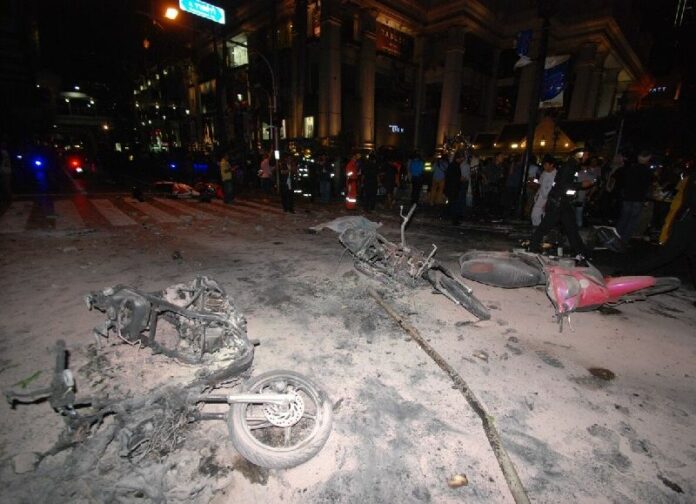 BANGKOK — Additional suspects sought by police in connection with the August bomb attack that killed 20 people in Bangkok have been arrested abroad, a deputy police commander announced today.
Nearly four months after the attack, there had been no new information until today about 15 suspects in the attack previously identified by police. Without going into detail, police Gen. Sriwarah Rangsipramnakul mentioned to reporters Thursday that several suspects have been detained abroad, including both Thai and foreign nationals.
"They are under custody in a foreign country. Right now, the prosecutor and Ministry of Foreign Affairs will coordinate efforts to bring them to face prosecution in Thailand," Sriwarah said. "However, I cannot disclose details, because it's about national security, and it's about international relations."
---
Bangkok Shrine Bombing: Those Who Died
---
Since the Aug. 17 attack at the Erawan Shrine, police have issued 17 arrest warrants. Only two suspects identified in them – Uighur men named Bilal Mohammad and Mieraili Yusufu – have been arrested. The pair is currently in military custody awaiting a trial by military tribunal.
Police officials have previously admitted some of the suspects had already fled Thailand following the attack.
Although Sriwarah did not name any of the suspects reportedly arrested abroad, only two Thai nationals were among the 17 outstanding warrants: Wanna Suansan and Yongyuth Popkaew.
Immigration records indicate Wanna, a 27-year-old woman from Phang Nga province, and her Turkish husband left Phuket International Airport for Turkey on July 1 – six weeks before the attack. They were accused of renting rooms used by members of those who staged the attack.
There whereabouts of Yongyuth, an alleged Redshirt bomb maker, have not been confirmed by police.
Related stories:
Bangkok Bombing Suspects Won't be Tried for Terrorism
Police: Bangkok Bombing was Revenge for Uighurs
Bangkok Bombing Suspect Confesses, Police Say
Warrants Out for Thai Woman, Foreign Man
To reach us about this article or another matter, please contact us by e-mail at: [email protected].
Follow Khaosod English on
and
Twitter
for news, politics and more from Thailand.