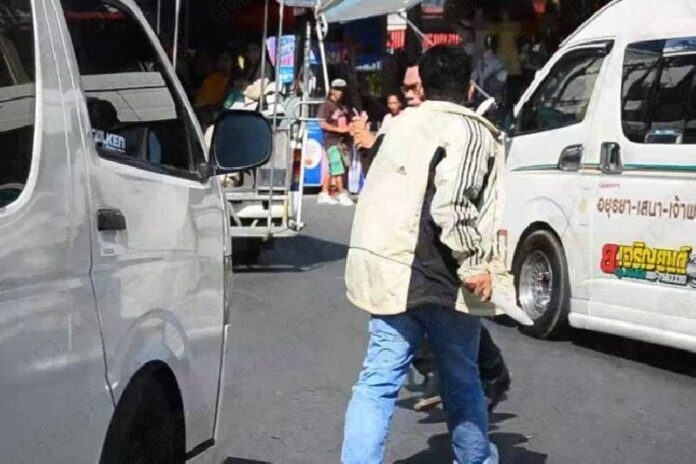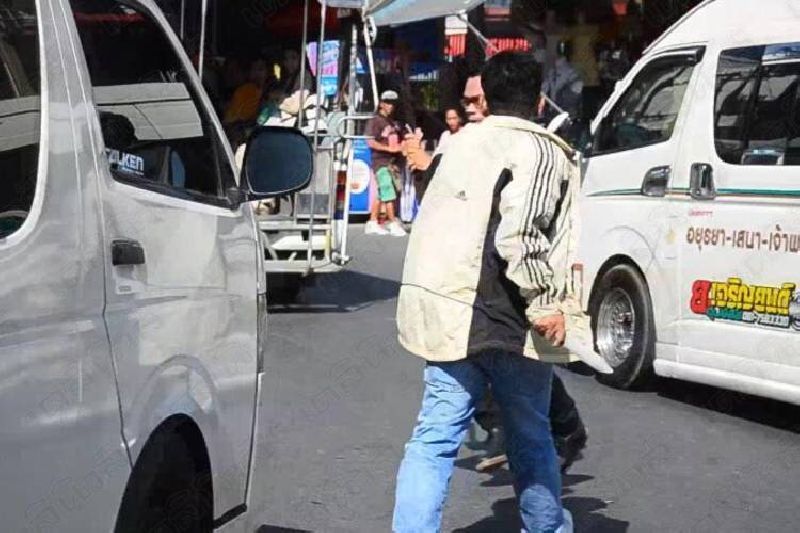 Teeranai Charuvastra
Staff Reporter
AYUTTHAYA — A public van driver has been charged with attempted murder for allegedly chasing down a reporter who honked at him, with a knife.
Bancha Eiammeechai, a Thai PBS reporter, filed criminal charges today at Ayutthaya Police Station against the unidentified driver, who reportedly exited the van he was driving with a five-inch knife and pursued Bancha.
The altercation allegedly broke out after Bancha honked his horn at the van driver Monday as they passed over a bridge because he was swerving dangerously. According to Bancha, when the two vehicles got stuck in a traffic, the driver approached Bancha's car menacingly, prompting him and his sister to flee the vehicle.
At that point, Bancha told Matichon Online, the driver caught up with him and stabbed at him but missed. The driver turned and fled the scene after Bancha and his sister started snapping photos of him, he added.
"It's lucky that we didn't get hurt, because we managed to dodge the knife … and in this incident, the van driver was only armed with a knife. If it were a gun, think about what could have happened?" Bancha said in Matichon Online. "This kind of behavior is not only dangerous to me, but it's dangerous to the road traffic."
He added that such violent road rage could have greater consequences.
"It also destroys tourism in the province, as a city of World Heritage that is full of dangers on the roads," Bancha said.
Col. Bhumisitthi Nawang, commander of Ayutthaya Police Station, said police are seeking an arrest warrant for the unidentified van driver on a charge of attempted murder.
Interprovincial public vans in Thailand are notorious for their frequent accidents. Road rage and threatening behavior occasionally make it into national news.
Related news:
'Gun' was Just a Box, Angry Driver Protests
Hit-and-Run Van Driver Confesses to Killing German
Public Van Driver Fined For Speeding, Taunting Passengers
To reach us about this article or another matter, please contact us by e-mail at: [email protected].
Follow Khaosod English on
and
Twitter
for news, politics and more from Thailand.