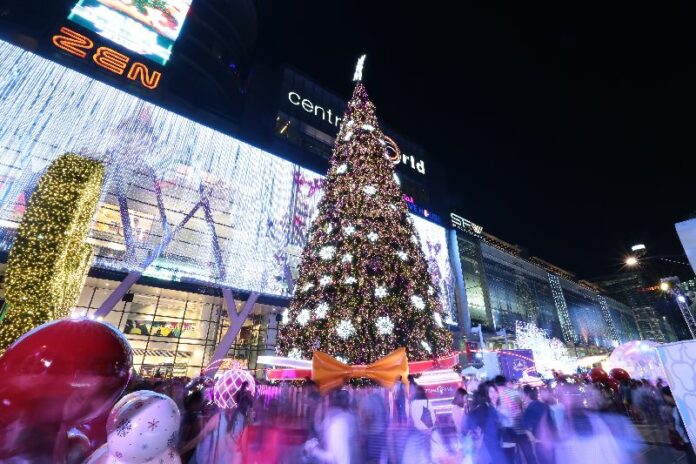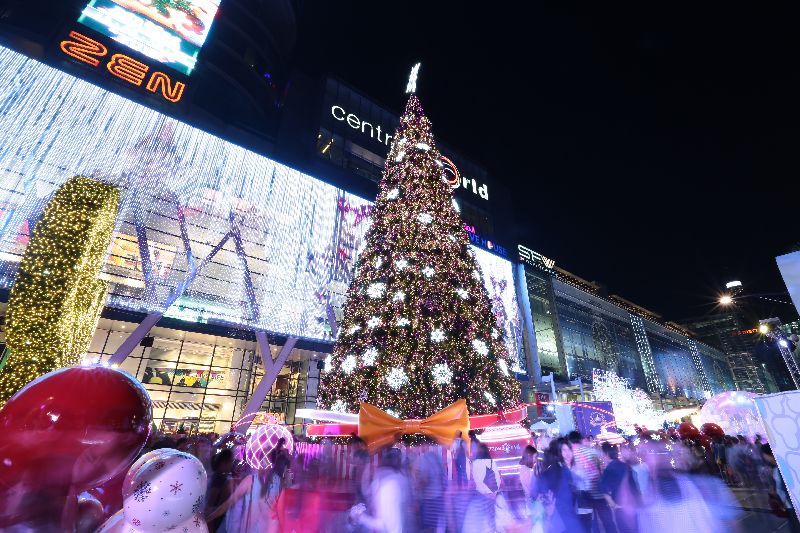 BANGKOK — Somjai Chalitungkul, 57, said she has lived long enough to remember the time when the only signs of Christmas celebration were confined to her own family and a local Catholic community.
"We used real pines for Christmas trees. Father [the priest] had to cut and bring them to the church on his own, because Christmas trees weren't widely sold in shops," Somjai said of her memories of the Catholic enclave around St. Louis Church off lower Sathorn Road.
In recent years, the icons of Christmas have proliferated throughout Thailand's major cities. Bangkok's high-end shopping malls seek to outdo each other with increasingly elaborate displays, while inside, Christmas music plays nonstop. Restaurants offer Christmas dinners, and shops sell presents to be colorfully wrapped and festooned with ribbons.
The prominence of Christmas in Thailand is striking, given that 95 percent of Thais are Buddhist, and only 0.5 percent identify as Christian.
All the spectacle and marketing reflect that Christmas in the kingdom is an overwhelmingly commercial enterprise unrelated to religion, a number of Christians said. But while some Christians in the West lament the commercialization of the increasingly secular holy day, those Khaosod English spoke to said they don't mind it – or, more precisely, "Mai pen rai."
Somjai is one of those Christians. Although she said Buddhist merchants could do better "by adding an explanation of Christmas along with the goods," she welcomes the heightened visibility of Christmas in the Kingdom, because it also makes Christians more visible to Thai people.
"My students were Buddhist, so they asked me about it," said Somjai, who used to work as a teacher. "And I got the opportunity to explain to them about Jesus."
Her opinion was shared by Rev. Eakarat Hompratum, a priest at Assumption Cathedral, who said Christmas is good "PR" without which Thai Christians would be an invisible group.
"Since businesses are decorated with Christmas themes and play Christmas songs, we have to thank them," Eakarat said. "It's like PR for our faith. It feels like the entire country is celebrating Christmas. It helps people to know more about Christians, even though they may not know much."
He said it's up to his fellow Christians to inform Buddhists about the religious meaning of Christmas.
Rev. Tim Eady, head of Christ Church Bangkok, said he often expresses dismay about the commercialization of Christmas to his congregation.
"I see what happens in Bangkok also happening in London and the United Kingdom," said Eady, a Briton who has lived in Thailand three years. "While I have been here, it has always been a commercial event. Bangkok is like many other cities in the world. Christmas is marked by people who have little idea of what it means."
The significance of the holiday may have been lost in translation among Thai Buddhists, according to Jumrud Pongpanichnugul, who converted to Christianity from Buddhism.
"My family is Buddhist. At first, we didn't know much about Christmas. We thought it was a New Year celebration for Westerners," said Jumrud, from the Phra Pradaeng area. He said he only learned of its religious aspects after studying the religion 18 years ago, which eventually led to his conversion.
Jumrud said he goes to church for Christmas service every year, prompting his Buddhist family to ask him what Christmas was really all about.  "Even though [Christmas decorations] don't really explain much, it may make some people curious," he said.
At Christ Church Bangkok, a member of Eady's Anglican congregation said she was not troubled by the lack of religion in Thai-style Christmas celebrations.
"I doubt it would drive people to Christianity, because people don't know about the Christian meaning behind it, but I'm happy to see people happy and rejoicing for Christmas," Gini Crompton said.
The Englishwoman said there's nothing new about the commercialization of Christmas.
"I'm not offended. I'm sad, but it's a worldwide phenomenon … It's not just Thailand," she said, adding that commerce will always find a way to sell products.
On Thursday night, many Christian communities in Bangkok will mark Christmas Eve at both religious services and church fairs. Eakarat said it's common to see Buddhists at these events held by Assumption Cathedral, because Christians like to bring their friends, families and partners. That is why he believes festivities are a big part of Christmas.
"It's not a core element, true, but if there's no celebration of Christmas, Thailand would be really quiet," Eakarat said.
Eady said that, even with all the noise made, the meaning may be lacking for Buddhist observers.
"They must find it confusing, because they don't see much of the religion behind it," he said.
Nevertheless, some Buddhists join his Christmas service every year, he said, "because they enjoy Christmas carols. We have people who feel they want to do something for Christmas. I welcome them."
James Wilson, an Edinburgh native who recently settled in Bangkok, said he used to work in sales and understands how Christmas is naturally used as a marketing tool.
"But I don't feel offended or annoyed about it," he said.
He delights in the fact Christmas has become more popular in the Buddhist kingdom in recent years.
"Everything is celebrated differently around the world, and Thais love to celebrate everything," Wilson said. "Thais are very accepting, they are interested in what's happening in the world. Not all countries are this receptive."