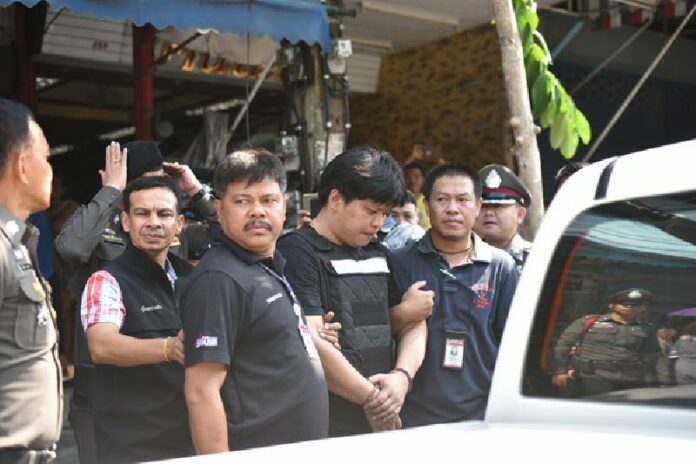 BANGKOK — A man accused of shooting three people dead over a parking dispute turned himself in to police Tuesday night.
Thossaporn Pitakwattanon, 34, told police he had fought with his next door neighbor, 46-year-old Siriluck Saehor, for two years because she often blocked the entrance to his home by parking her five cars. The pharmacy school graduate said he did not intend to kill his neighbors Monday, and he turned himself in to the Pak Kret police station after 24 hours on the run.
Police said Thossaporn confessed to gunning down his neighbors in rage on Monday night because Siriluck talked to him disrespectfully in an argument and also threw a glass bottle at his wife. That's when he said he pulled a gun and shot her.
After the first bullet hit, Thossaporn said he couldn't control himself. He then shot her Cambodian employee and another neighbor, Mulloh Bin-umut, 45, who had attempted to intervene in the conflict.
Thossaporn fled the scene with his wife and said he disposed of the gun in the Don Mueang district.
After questioning Thossaporn, police took him to the scene in Soi Suan Siam 15 in the Khan Na Yao district for a "reenactment" Wednesday afternoon. That turned chaotic as an angry mob gathered and attempted to physically assault the shooting suspect.
Thossaporn was charged with murder and illegal possession of a weapon. Police said they did not file any charges against his wife.
A scuffle ensues Wednesday as an angry crowd tries to assault triple-homicide suspect Thossaporn Pitakwattanon in Bangkok.
Related stories:
Alleged Parking Shooter Remains at Large