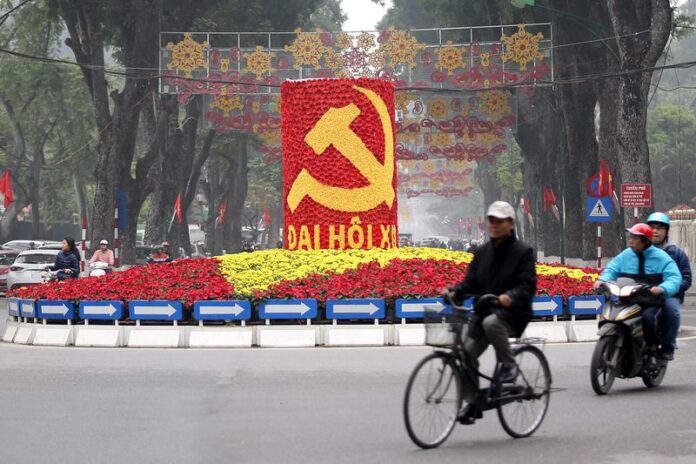 HANOI — Security was tight in the Vietnamese capital Thursday as the ruling Communist Party opened its 12th national congress.
During the eight-day event, held every five years, more than 1,500 delegates of the Communist Party of Vietnam will outline the next socio-economic plan and elect a new Central Committee.
The Committee will in turn select the top four officials in the single-party state.
Those appointments, consisting of the party secretary general, the president, the prime minister and the national assembly chairperson, will be announced on the final day of the congress, set for Jan.28.
A total of 5,200 soldiers were deployed along with helicopters and tanks to ensure public order during the event, according to the subcommittee in charge of security.
Outside the meeting hall, armed riot police were standing guard. Many streets were closed off and reserved for delegates' transport.
Streets were decorated with flowers and posters, while large representations of the communist hammer-and-sickle symbol had been erected on several roundabouts, and red banners lined the streets proclaiming "Long Live the Glorious Communist Party of Vietnam!"
Despite the pomp and propaganda, some Vietnamese said they were not expecting dramatic outcomes from the congress.
"There will be no breakthrough in this party congress because the party still keeps the old (election) system that has been the same for dozens of years," said Nguyen Minh Thuyet, a party member and former vice chairman of the National Assembly Committee on Culture, Education, Youth and Children.
"There is no election debate like in foreign countries where candidates have to introduce an action program during election," said Thuyet, who has read the draft political reports to be presented at the party congress.
Story: DPA