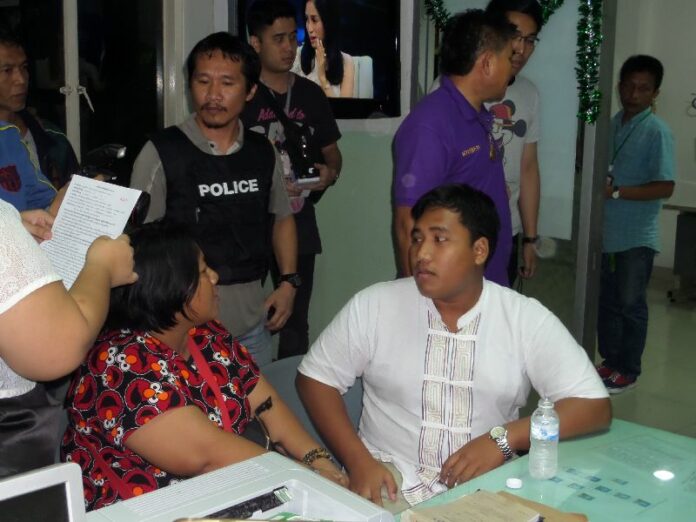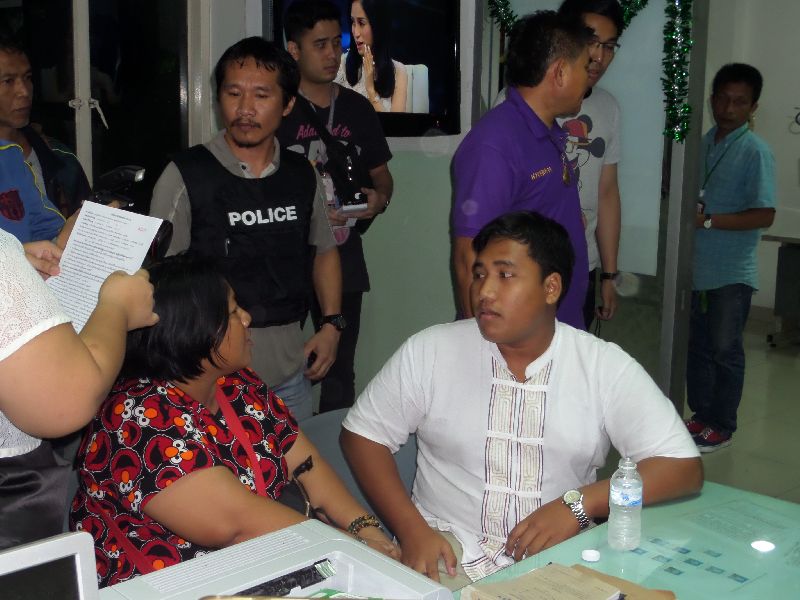 By Pravit Rojanaphruk
Senior Staff Writer
BANGKOK — A student activist leader said he was slapped in the head and back, and verbally abused after being blindfolded and taken away in an abduction-like operation late last night.
Sirawith "Ja New" Seritiwat, a fourth-year political science student at Thammasat University and a leader of the New Democracy Movement, said the abuse came at the hands of unidentified, uniformed men who forced him into a vehicle at 10:37pm Wednesday night in front of Thammasat University's Rangsit campus.
He was eventually dropped off at Nimitmai Police Station, where he told his story to friends who visited him early this morning and recorded his comments on video then posted to Facebook.
"When I was taken into the vehicle, my face was covered, and on top of that, a rubber band was placed over my eyes, so I couldn't see anything," Sirawith, 23, said in the video. He said the vehicle drove him around for a long time, with about 20 turns taken before he was taken out to a place he reckoned was a field.
---
Student Activist Leader 'Abducted' from University
---
"They dragged me into a grassy jungle … and forced me to squat, but I refused."
At that point, he said, the men kicked him down onto the ground.
"Then they walked to me and began verbally reprimanding me: 'You want to become famous? Why are you talking with journalists? Are you conspiring with journalists? You have no religion or faith? Do you know your duty? What have you done for the country?'" he said.
Asked by an unidentified fellow activist in the video whether he was physically assaulted, Sirawith said he was struck and kicked.
"They slapped my head once. Hit my back once and kicked once. That's three," he said. "Then they used something to stick at my body," adding he was unsure whether it was a wooden stick or a gun barrel.
A police memo of the arrest, which was posted on Facebook by the New Democracy Movement, identified the abductors as soldiers from the 2nd Infantry Battalion of the 2nd Infantry Regiment.
A soldier barred Sirawith Serithiwat's lawyer (in white) and mother (left) from seeing him while he was being interrogated at Nimitmai Police Station early Thursday morning.
When Prachatai news agency asked a junta representative last night about the abduction, he said he was not aware of the incident. "I don't even know if this is true. I can't check it right now. We are checking whether it's true or not," the representative, Col. Burin Thongprapai, was quoted as saying.
But junta spokesman Winthai Suvaree this morning admitted that the military was behind the arrest. Nevertheless, he claimed that the soldiers acted in accordance with the law, and in a dignified, non-violent manner.
"The soldiers treated him with respect. There was no violence as alleged by someone who tried to distort the facts," said Col. Winthai, adding that the soldiers have the authority to make the arrest because Sirawith had an outstanding warrant issued by the military court.
Winthai also told reporters that Sirawith has been "increasing his provocative behavior" in recent days.
"I believe those in the society that have been following the news are conscious of this," Winthai said. "However, in order to avoid creating a negative image or feeling towards security officers, especially now that those with ill intentions are attempting to exploit the issue, security officers are proceeding with everything with caution."
The pro-democracy activist, who incensed authorities last month by trying to lead a group of activists to the scandal-plagued Rajabhakti Park in Hua Hin, said he was eventually taken to the police station.
Sirawith was wanted under a warrant approved by a military tribunal for violating the junta's ban on political assembly of five or more persons by boarding a train Dec. 7 in the failed attempt to visit the controversial park located in Prachuap Khiri Khan province to call attention to alleged corruption in the construction of the billion-baht park, which was managed by the military.
After an interrogation session at Nimitmai Police Station, Sirawith was transferred to Railway Police command in western Bangkok, where he remains in custody.
Additional reporting Teeranai Charuvastra

Related stories:
Activist Deprived of Freedom, Fresh Air for Five Days in Small Room
Activist's Mother Catapulted into Political Fame and Fray
Rajabhakti Scandal: Military Closes Park 'For Maintenance,' Detains Dozens of Activists
Activists to Visit Rajabhakti Park Despite Likely Detention of Student Leader