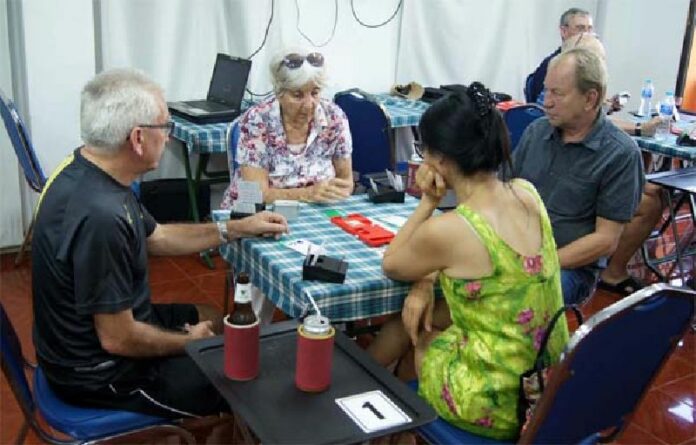 PATTAYA — Thirty-two elderly, bridge-playing foreigners will face the music and must defend their innocence in court, Pattaya police said today.
After a surprise crackdown in which seniors were arrested under an antiquated law made headlines worldwide Thursday, Police said the elderly Westerners are now free on 5,000 baht bonds.
"The case will still have to follow the legal process," said Col. Sukthat Pumpanmuang, commander of the Pattaya Police Station.
Police did not find evidence of gambling when they raided Alto's Restaurant and Bar on Wednesday and took the players into custody, but they seized computers on suspicion the players, 26 men and six women, might have been making electronic transfers of money.
The senior citizens were held until the early hours of the morning before being released. The oldest of the suspects is 84. They will all be charged under a law nearly as old.
In 1943, during the reign of Rama VIII, possession of more than 120 playing cards was criminalized, as was the use of playing cards not certified by authorities.
Bridge was once a prohibited form of gambling under a 1935 law, but became permitted in 1960 so long as no money changed hands, according to Chodchoy Sophonpanich, president of the Contract Bridge League of Thailand.
Chodchoy on Wednesday evening met Sukthat to confirm playing bridge is legal. She said the case could be the first ever arrest of bridge players in the country, and if it goes to the court, she will testify on behalf of the defendants.
In the interview with Manager online published today, Banglamung District Chief Chakorn Kanjawattana, who provided the tip to police that led to the crackdown, insisted bridge is only legal if played in a private group at a private residence.
He said it's up to the court to decide whether the seniors, who were playing in a public place, aimed to gamble.
Related stories:
Pattaya Police Bust Bridge Playing Pensioners