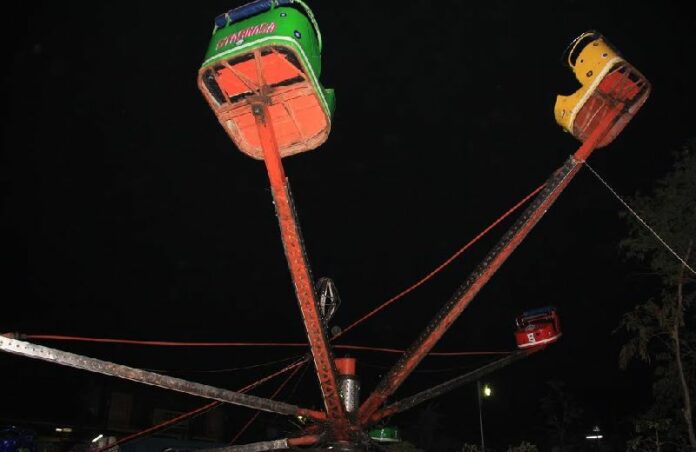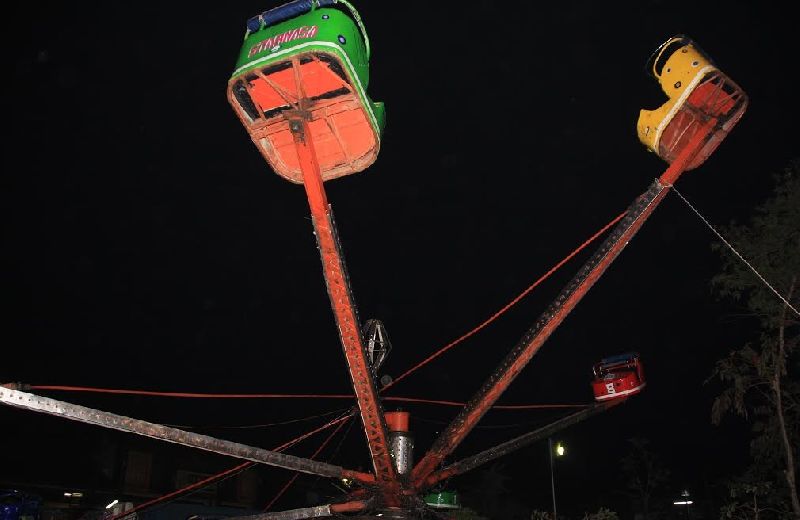 NAKHON PHANOM — A carnival ride collapsed into its base and injured several riders at a temple fair on Sunday night.
Police and a rescue team arrived at Wat Phra That Phanom to find one arm of the Hurricane-style ride on the ground with two girls unconscious on the ground. Other passengers were stuck up in the air in other cars before emergency personnel climbed up to rescue them.
Siriwan Ladbasri, 14, received a broken arm and serious head injury while her 19-year old cousin, Penpicha Ladbasri, suffered a skull fracture.
The two are undergoing treatment at a hospital, Pichitchai said.
The 40-year-old father of Siriwan, Mongkol Ladbasri said that their family traveled together from Na Kae district. While others were visiting the temple fair, he bought his daughter and niece a ride ticket for 40 baht per each.
He was filming them enjoying the ride until the accident occurred.
"I was recording a video for a couple of minutes before the spinning ride fell to the ground. I ran to see my daughter and niece immediately," Mongkol said, insisting someone must be held responsible for the incident.

The eight-armed ride was is owned by the Star Naza Co.
The staff member operating the ride Suwit Seripong, 59, told police the accident was likely caused by a broken lock nut. He told police that he was trying to stop the ride when he noticed the malfunction but failed to control it, according to police Lt. Pichitchai Roobkom.
Initially, Suwit was charged for recklessness resulting in injury by using the sub-standard carnival ride, Pichitchai said.
According to Pichitchai, the owner of Star Naza company said that his firm had a contract with an insurance firm which will compensate the family immediately.