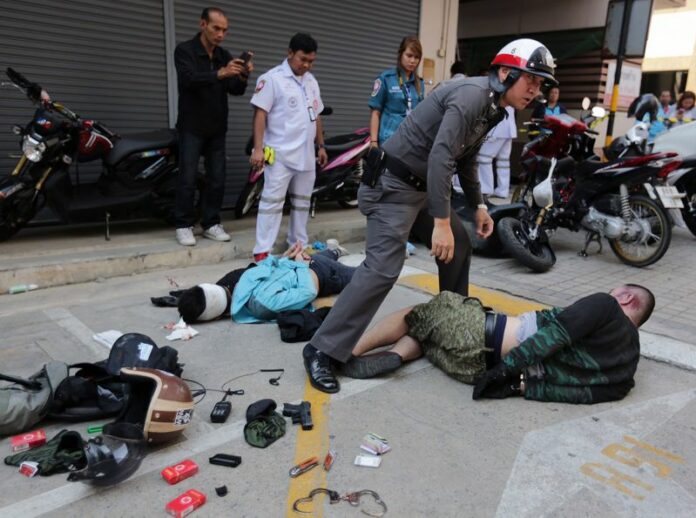 BANGKOK — A group of Chinese nationals who attempted to rob a gun store in Chinatown on Friday had no known links to any terror groups, the commander of Bangkok police said today.
Instead the botched robbery, which left one of the assailants dead and two others injured, was an attempt to acquire firearms for resale on the Chinese black market, said deputy police spokesman Songpol Wattanachai.
"This has nothing to do with politics," Gen. Songpol said by telephone Monday. "We checked with the Chinese Embassy. None of them was on the blacklist of Chinese authorities. No national security issue. No terrorism."
Three of the suspects and their alleged mastermind, Yang Zheng, were brought before the Criminal Court on Monday to be indicted and remanded into custody. The judge agreed the suspects pose a flight risk and denied them bail.
Friday's bizarre attack, in which three of four Chinese men were shot trying to hold up a gun store with airguns and knives, brought to mind the August bombing of the Erawan Shrine, which was allegedly carried out by a group of Chinese Uighurs. The attack killed 20 people, including Chinese tourists, and is believed by some analysts to have been revenge on Beijing and Bangkok for persecution of the Uighurs.
Crime scene photo of officer Thawatchai Pewpong, who police said shot and killed robbery suspect Wu Xingjun.
Songpol said Yang confessed to plotting the robbery with his friend Wu Xingjun, who died from gunshot wounds sustained during the attempted robbery. They reportedly hired three other men for the job, identified by police as Lin Kunpeng, Ma Geng and Sun Junwei.
Yang and four other suspects scouted the location, a gun shop named Interarms near Chinatown, two days before the robbery, Songpol said.
Yang said he wanted to steal the guns and then smuggle them into China for sale on the black market, where one weapon can fetch up to 1 million baht, Songpol said.
"Some brands are worth 1 million baht in the black market, even though they only cost 50,000 to 100,000 baht normally [in Thailand]," Songpol said.
According to Songpol, Yang watched from afar when the four suspects tried to hold up the Charoen Krung Road shop. The shopkeepers open fire, and the four were forced to retreat. Although earlier media reports said the shop owner shot one of the robbers dead, Songpol said it was a police officer in the area who killed Wu.
"They ran into police on their way out, and the officers assumed they were holding real guns," Songpol said. "They couldn't just let the robbers shoot at them, right?"
Yang allegedly fled the scene and attempted to travel back to China but was later arrested near the border with Laos.
Songpol said the Chinese Embassy confirmed that all suspects are Chinese citizens. Two are from Inner Mongolia, an autonomous region in China, which likely contributed to erroneous reports identifying them as Mongolian.
Songpol also said the four suspects do not have legal representation because "they said don't need a lawyer."
Related stories
Alleged Chinatown Gunshop Robbery Mastermind Arrested
Gunshop Heist Suspect Dies, Footage Shows Motorbike Street Justice
Five Injured After Attempted Robbery at Chinatown Gun Shop
Teeranai Charuvastra can be reached at [email protected] and @Teeranai_C.