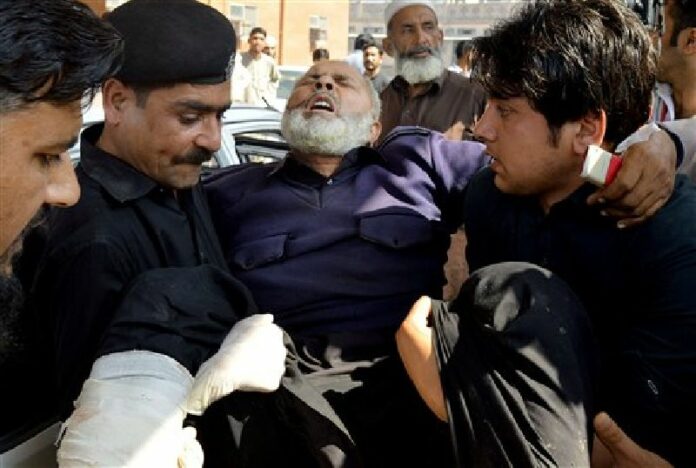 PESHAWAR, Pakistan — A suicide bomber attacked the entrance to a court in northwestern Pakistan on Monday, killing 11 people, police said.
The blast in the town of Shabqadar also wounded another 15 people, said police official Ali Jan Khan. Two policemen and a policewoman were included among the dead, he said.
The attacker tried to enter the court premises where police stopped him, said another police officer, Saeed Khan Wazir. The bomber opened fire at the officers and started running toward the courtrooms where a large number of lawyers and their clients were present, he said. A policeman began fighting the attacker, who then detonated his explosives, Wazir said.
A group affiliated with the Pakistani Taliban and calling itself Jamat-ul-Ahrar claimed responsibility. The local Taliban branch or its allied militant groups have been waging a war against the state for over a decade, killing tens of thousands of people.
The town of Shabqadar is located in the Charsadda district, where four suicide bombers from a Pakistani Taliban-linked group killed 21 students and teachers on Jan 20.
The town sits on the edge of the Mohmand tribal region bordering Afghanistan, where two Pakistanis working with the U.S. Consulate in the northwestern city of Peshawar were killed by a roadside bomb while on a mission to eradicate drug cultivation on March 1. That attack was also claimed by Jamat-ul-Ahrar.
The court bombing was an attack on the judiciary which gives verdicts against God's divine laws, said Ahrar's spokesman Ahsanullah Ahsan in a statement emailed to an Associated Press reporter.
It was a revenge for the hanging of Mumtaz Qadri who was executed last week for the 2011 killing of a provincial governor.
Story: Riaz Khan / Associated Press