PHUKET — A taxi driver was arrested Sunday for allegedly threatening another motorist with an axe in full view of foreign tourists at Phuket International Airport.
For his alleged actions, which were filmed Saturday and later spread on social media, Nattawuth Chidjui, 45, has been charged with two offenses and stripped of his driving license for three months, said Bundit Khaosutham, deputy regional tourist police commander.
"He claimed he didn't threaten anyone, but we arrested him anyway," Col. Bundit said by telephone Monday. "He has been charged with carrying a weapon in a residential area … there's also a charge for threatening other people."
Nattawuth was shown some leniency for confessing.
"The Department of Land Transport was also there [for the arrest]. They said, for this kind of behavior, the driver was supposed to lose his license for six months, but since he confessed, cooperated with the investigation and has clear address of residence, the punishment is halved to three," he said.
It all stemmed from some airport road rage, according his purported victim.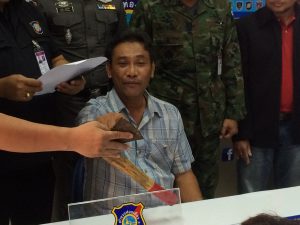 Woratat Wuttikorn wrote that he was dropping his family off at the airport when the driver became angry at him for taking his spot to stop his taxi. That's when, Woratat recounted online Saturday, he hefted an axe and waved it around in a threatening way. Woratat later uploaded his dashcam footage of the confrontation.
Col. Bundit said officers tracked Nattawuth down from security camera footage and arrested him at home. He said Nattawuth admitted to carrying the axe but denied threatening anyone with it.
There have been many complaints about taxi drivers overcharging or threatening tourists on the island of Phuket.
To improve passenger safety, Bundit said, Tourist Police will summon all drivers on the island for a lecture on regulations, and officers are considering random searches of taxis for weapons.
Related stories:
Phuket Struggling To Battle Taxi And Nightclubs 'Mafia'
Taxi Driver Ex-Con Accused of Robbing Chinese Tourists
Taxi Driver Accused of Raping Drunk Passenger Leaving RCA
Cops Arrests Taxi Driver for Robbing Foreigner
Police Seeking Arrest of Masturbating Cabbie