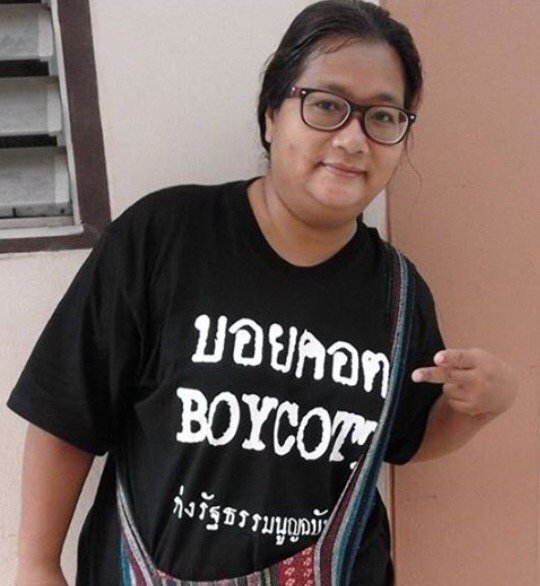 BANGKOK — While it's illegal to urge anyone to vote no or vote yes in the upcoming referendum, calls for an alternative – just don't vote – are worrying to charter critics, who fear it will split the opposition.
While authorities contend the ban on campaigning for the Aug. 7 charter referendum extends to encouraging people to not vote at all, that hasn't stopped some from risking arrest by going public with their intent to boycott the vote.
---
Campaign Guideline Bans Campaigning Before Charter Vote
---
Leading the pack of those calling for voters to skip the poll, or even making T-shirts with such messages, is Jittra Cotchadet, an advisor to the Democracy Force Party, a little-known political party established in 2013.
"We don't trust the referendum. People can't really freely say what they think is good or bad about the draft charter," Jittra said. "We also think it's impossible for the charter draft to be rejected in the plebiscite. And why should we play by their rules?"
Jittra said she was aware that campaigning for a boycott of the referendum is a crime, punishable by up to 10 years in prison, and so Democracy Force Party, which has just over 100 members, stops short of campaigning for others to do the same.
Since Jittra made the announcement two weeks ago, accusations have been made against that she and others calling for the boycott are undermining the effort to defeat it at the ballot box.
"Some accused us of being paid to do the job for the junta," she said, denying she's been paid to promote the idea. "The junta would dread to see majority of the voters boycotting the referendum."
Writer and political activist Wad Rawee, said the accusation is just lame. Wad said he's more upset by opposition elements who tell them the strategy will fail or be counterproductive.
"If you campaign for democracy, you must respect differing views. Those who say the [No] votes will be diluted do not respect the democratic principle," Wad said.
He plans to boycott the referendum because he believes the process lacks legitimacy and is neither free nor fair.
"Not only is it not free, but we're being silenced. The junta selected their own charter drafters and try to force people accept it," he said.
While the charter has been criticized as anti-democratic by figures across the academic and political spectrums, the junta has made the case it is a bitter pill necessary to immunize the legal framework against endemic corruption.
Asked how the those who boycott will be measured and not just conflated with the millions who just don't vote, Wad said he will wait for Democracy Force Party to come up with a plan.
How many might actually participate in a boycott? Jittra said she thinks half the electorate, but she's not concerned.
"We won't have anything to do with it, and so the [junta] can't claim to have our voices after they win in the referendum," she said.
Wad said T-shirts with a boycott message have already been made and those who plan to participate might put them on and hit the streets come referendum day to make some noise.
"Breaking the law?" he said. "I'm not worried about that."
Meanwhile, Election Commisioner Somchai Srisutthiyakorn warned that anyone trying to campaign for others to vote one way or the other, or to boycott the referendum could face up to 10 years imprisonment term, fined up to 200,000 and have their electoral rights suspended for five years under Article 61 920 of the Referendum Law which barred causing disturbances.
"If it's a personal [declaration] there's no restriction. But you can't tell others how they should vote. It might be against the law."
Related stories:
Prof Denies Breaking 'Vague' Referendum Law, Junta Spokesman Says She Did
'Personal' Campaigning Acceptable (If Charter Vote Isn't Canceled)
Redshirts Alarmed by Vague Restrictions on Charter Campaigns