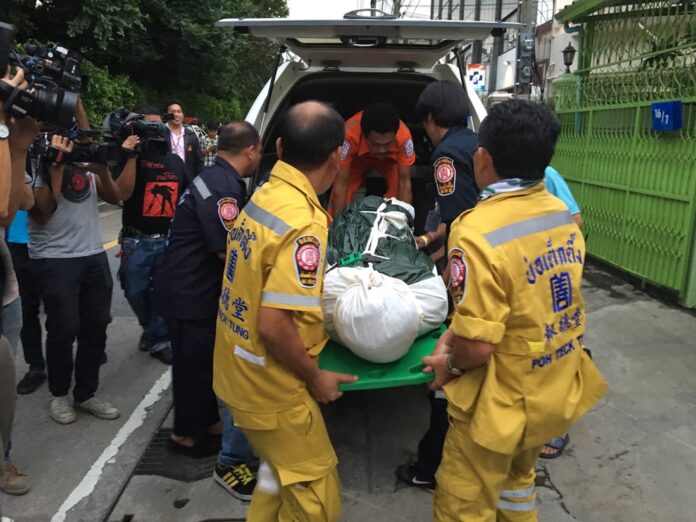 BANGKOK — Police on Thursday were waiting for American officials to formally confirm the identity of a body found in the freezer of a passport forgery den they believe to be that of U.S. national Charles Edward Ditlefsen, a police source said.
Two of three American suspects are currently held in a Bangkok prison in connection with the dismembered body. The man they believe responsible for murdering Ditlefsen, who was on the run from the FBI nearly four decades, remains hospitalized for injuries sustained during his capture after he shot a police officer.
Police Say American Admits Cutting Up Victim, Denies Killing Him
A source in the police force, who spoke on condition of anonymity because he was told not to speak to reporters, said Thursday the cut-up body belonged to Ditlefsen. His frozen remains were discovered during a Sept. 23 police raid on a building in the Phra Khanong district.
Media reports from over decade ago identified Ditlefsen as a California railfan who established himself as a publisher of calendars featuring old trains.
Reached for comment Thursday, Bangkok police chief Sanit Mahatavorn said police were still waiting on formal verification from the U.S. Embassy.
"It's possible, but we don't have any official confirmation yet. We have to wait on the country of his nationality," Lt. Gen. Sanit said. "To confirm it, we need a letter of confirmation from the American embassy. If we say [he was American], it's like we didn't check things first."
Sanit said police believe it's a case of homicide but would not confirm reports the body had been frozen for eight years.
"We have made that our hypothesis," he said.
Three men were arrested in connection with the alleged killing, including Herbert La Fon, who in 1979 became a fugitive from justice after being accused of fraud. La Fon shot a tourist police officer during the raid. He was arrested along with James Eger, an alternative energy consultant and Aaron Gabel, who was settled with a family in Thailand.
Eger and Gabel are being held at Bangkok Remand Prison, while La Fon remains at Police Hospital for injuries he reportedly sustained in the raid, including what were described as self-inflicted wounds to his wrists.