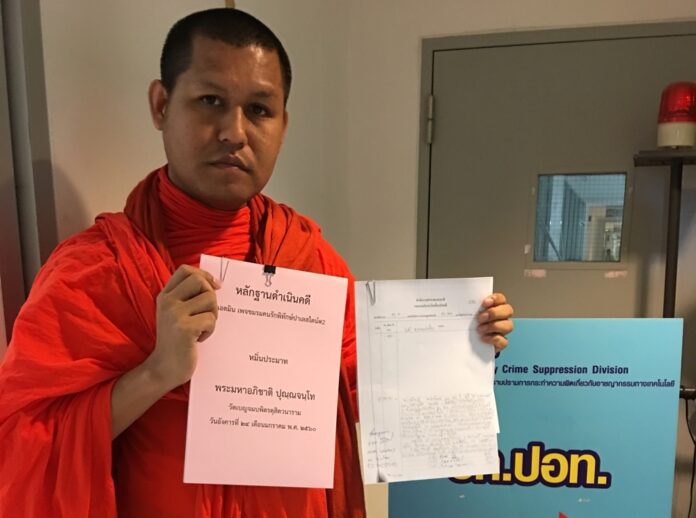 BANGKOK — A Buddhist monk whose called for a mosque to be destroyed every time a Buddhist is killed in the south of Thailand filed charges Wednesday against a Muslim group for calling him a "fake monk."
In the latest spat between religious groups, Phra Maha Aphichat Punnajantho filed his complaint against Facebook page We Love and Defend Palestine under a cybercrime law that criminalizes any act of defamation or false information posted online or possessed on a computer.
Aphichat's grievance was a Tuesday post condemning him as a "fake monk" for his anti-Muslim hate speech.
"That article [post] has caused damage to me," Aphichat, 31, told reporters Wednesday. "It made people misunderstand that I am a fake monk."
He added that if he won the criminal case, he would sue the page and "everyone who commented" on the post for 1 million baht in damages for libel.
"I will not show any mercy to the Muslims for doing this," the monk said.
Police said they will investigate the case.
In response to the criminal complaint, the admin of "We Love and Defend Palestine" thanked its fans for support and vowed to continue to speak out against people who cause hatred between the two religions.
"I promise to keep walking and fighting those who exploit religious issues to incite hatred and divisions among our Thai Muslim and Buddhist brethrens," the admin wrote.
A well-known preacher based at Benchamabophit Temple in Bangkok, Aphichat once said in an interview he wanted to emulate hardline Buddhist monks in Burma by organizing an anti-Islam movement in Thailand. He regularly uploaded videos of himself berating Muslims or calling for restrictions on Islam, such as putting a ban on new mosque constructions.
In perhaps the most infamous speech, Aphichat urged Buddhists in the southern border region of Thailand to band together and burn a mosque for each Buddhist killed by Muslim separatists.
After the speech drew widespread condemnation, the government reportedly asked Aphichat to deactivate his Facebook in early 2016. He did so, but returned to his social media platform earlier this month to coordinate a charity effort for the flood-stricken south.
"Because of the flood situation in the south, I had to come back," Aphichat wrote.
Since then he had made no comment about Islam, but did congratulate security forces for killing a suspected insurgent on Jan. 16.
Related stories:
Thai School Director Transferred for Banning Hijab
BKK Airport Apologizes for Searching Muslim Cleric's Headwear