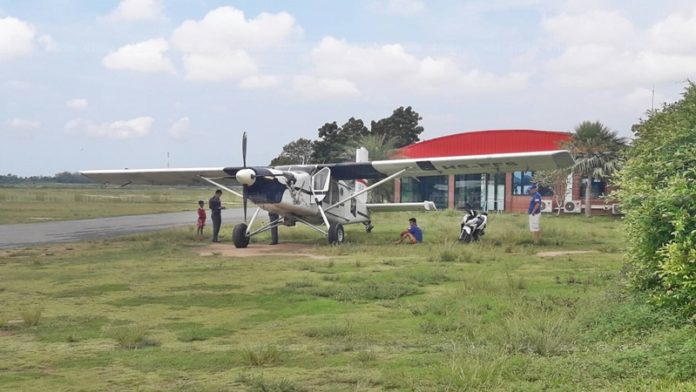 CHONBURI — Police on Monday said they're investigating a British-owned skydiving firm in Chonburi province for possible negligence following the death of one of its clients last week, though the owner of the business disputes this.
A 69-year-old British pensioner died during a skydiving session with Thai Sky Adventures on Thursday. While the owner of the firm maintains the man died of a heart attack, the local police chief said no conclusion has been reached.
Read: Foreign Man Dies at Pattaya's 'Thai Sky Adventures'
"Right now we are still waiting for doctors to establish the cause of death," Chanapat Navaluk, chief of Nong Kham police, said by telephone. "The witness, the person who was skydiving with him, the witness said he lost consciousness and fell into the reservoir."
Col. Chanapat identified the deceased as James Anthony McConnell, a Scottish retiree who had lived in Chonburi's Sattahip district with his Thai wife for many years.
He added that police are investigating the incident and have summoned the operator of Thai Sky Adventures for questioning.
"We want to find out whether it's a case of negligence or not," Chanapat said. "Because the man was over 60. How did they let him take the jump?"
Reached for comment, company owner Harry Harrison said "police have already completed their investigation." Harrison also said that what happened was regrettable but unavoidable.
"People have heart attacks every day. People have heart attacks behind the wheel in the car, while they are walking on the street, while they're in bed," Harrison said. "This particular gentleman had a heart attack while he was doing something he loved. What extra precaution could we possibly take?"
While Col. Chanapat said police have ordered the company to ground its planes while the investigation is ongoing, Harrison said Thai Sky Adventures is open as usual. He said the company is properly licensed by the authorities.
Thai Sky Adventures' air strip in the Si Racha district of Chonburi province is located adjacent to a large reservoir.
The company has had several incidents in recent years. In October, a Russian skydiving instructor working for the company fell to his death. In 2015, it grabbed headlines worldwide when video emerged of its plane diving toward a pair of tandem skydivers, clipping their parachute and narrowly avoiding calamity a few months earlier.