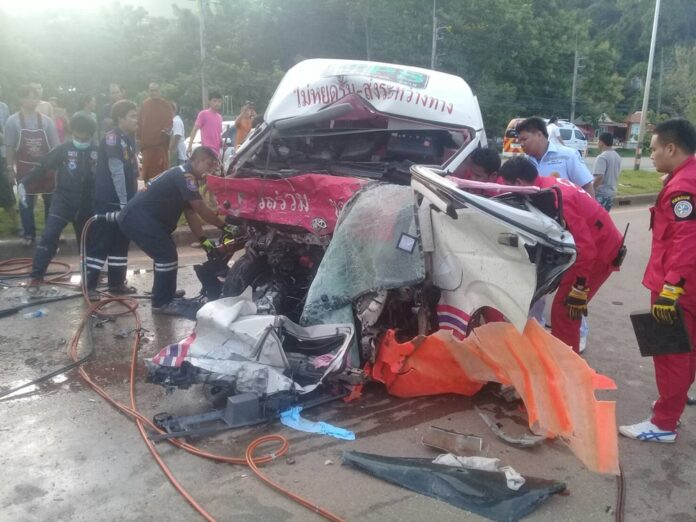 SA KAEO — Three Thais and two foreigners died when a van and pickup collided Tuesday morning in the border province of Sa Kaeo.
Police said the van was carrying a group of foreign workers to an immigration post at the Thai-Cambodian border to extend their visas. The cause of the accident was not immediately clear, as the van driver was among the dead, said Korathawat Kanatat, deputy chief of Khao Chakan Police Station.
"The van approached a bend, and it was coming in fast," Lt. Col. Korathawat said. "For some reason that we don't know, it crashed into the center divider and went on across the lane to slam into a pickup truck."
The impact killed two people in the truck and three in the van. The van passengers were citizens of Vietnam and Laos, Korathawat added.
Although police officers at the scene described the passengers as being workers in Thailand, the lieutenant colonel would not confirm this beyond saying all of them were carrying tourist visas.
Fatal accidents involving interprovincial vans are frequent. After a series of high-profile incidents, such as another van and pickup truck collision in January, the military government announced a plan to replace the vans with minibuses that are more suitable for long distance travel.
The replacement deadline was initially set for July, but transport authorities later postponed it, citing different reasons.