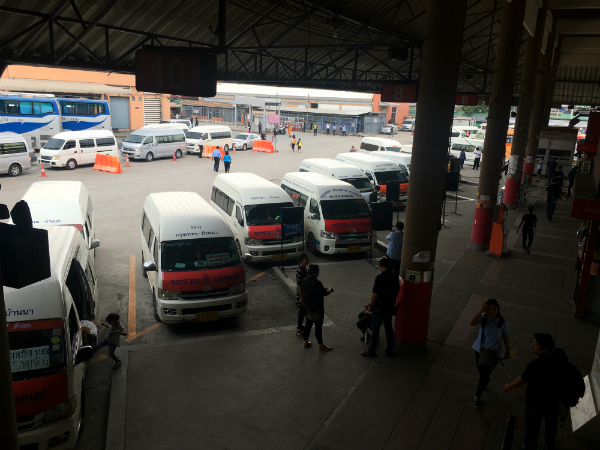 BANGKOK — A plan to replace interprovincial vans with minibuses is unlikely to begin by July 1 as expected, officials said Monday, citing different reasons.
Government transport operator Transport Co. Ltd. said plans to acquire the first 50 minibuses to replace 13-seater vans by the deadline were stalled because it was still waiting for information on pricing and financial support from the Transport Ministry.
The ministry cited a different reason for why the deadline – announced earlier this year to improve road safety – couldn't be met. Deputy Permanent Secretary Somsak Hommuang said today it was because the company hadn't discussed the matter since a new managing director took over several weeks ago.
Replacement of the vans traveling between provinces with 20-passenger minibuses was moved forward from the original, 2019 deadline to mid-2017 after 25 people were killed in a flaming wreck after a van crashed into a truck.
Experts agreed the plan would save more lives, as most of the vans in current use were modified with extra seats and no emergency exits.
Read: Here's Why Fewer Will Die on Thai Roads if Vans Replaced  
The ministry expects nearly 8,000 of the more than 11,000 registered vans – or 70 percent – to be replaced by 2022. Each operator will be given a concession to operate for seven years.
Somsak said the ministry has proposed a plan to issue loans to help van operators buy the new minibuses that will go to its deputy minister for approval on May 15.
The plan will offer loans payable by installment over six years. They expected many banks to offer the loans at interest rates between 3 percent and 5 percent.
The Land Transport Federation, a private association of operators, has said it will offer 250,000 baht to 500,000 baht in a van buy-back program, so operators can use the money for down payments on the minibuses, which will cost between 1.7 million baht to 2.2 million baht.
Related stories:
Vans Must Remove Extra Seats, Starting Today
Here's Why Fewer Will Die on Thai Roads if Vans Replaced
Chonburi Wreck: Van Driver Was Sober but Sleepy
Anger, Anguish as Chonburi Wreck Victims Mourned
25 Die in Fiery Chonburi Wreck