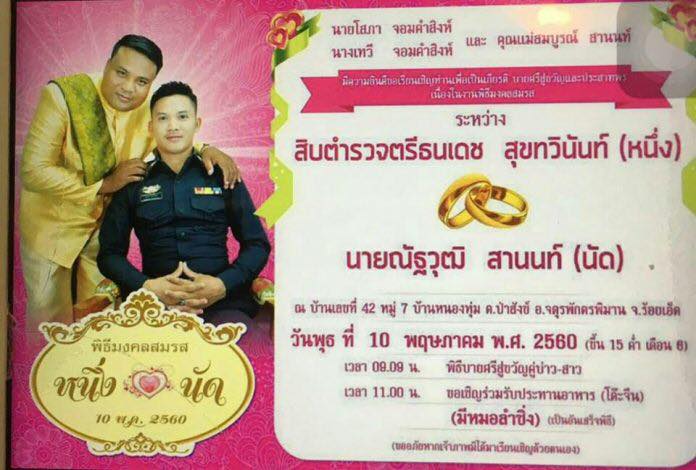 AYUTTHAYA — A policeman in Ayutthaya province is under investigation for breaching discipline by announcing he will wed his fiance, a police commander confirmed Monday.
Lance Cpl. Thanadet Sukthawinand launched to online fame last week after a wedding invitation, which showed him in a police uniform, surfaced on social media. His supervisors soon launched a probe to ascertain whether he breached any unspecified regulations by getting married.
"We are now investigating the matter. We have not taken any action against him yet," Col. Samart Kaewmanee, head of Wang Noi police, where Thanadet is assigned. "We want to find out the facts first."
But when pressed on what offense the lance corporal might be guilty of, Samart would not say.
"Actually, I don't even really want to talk to the media about this," Samart said, laughing.
He would not say whether Thanadet was still on active duty.
The wedding is set to take place Wednesday in Roi Et province.
On Friday, an image purported to be an internal Ayutthaya police memo ordering the investigation was posted to social media. Reached for comment, provincial police commander Thanasak Panyaem referred inquiries to Samart.
But Thanasak told Matichon on Friday they merely wanted to find out whether Thanadet had a wife or children, and whether he was eligible to marry. The colonel also reportedly said police officers were free to live in accordance to their sexual orientation, as long as their conduct is in line with regulations.
Same-sex marriage is not recognized under the law, but it is also not illegal and same-sex weddings are commonplace.
Paisarn Likhitpreechakul, an activist with the Foundation for Sexual Orientation and Gender Identity Rights and Justice, said it's the first time he heard of a police officer being investigated for marrying someone.
"I've never seen anything like this," Paisarn said.
While police officers regularly pose for wedding photos in their uniforms, Paisarn suspects Thanadech was singled out for wearing his in the invitation.
He also questioned whether there's a double standard being applied. In 2015, a policewoman openly married her female partner, and there was no reaction from the force.
"It reflects that Thai bureaucrats, especially the police, may still have certain values and perceptions about what men should be, or what men shouldn't be," Paisarn said.
Read more:
LGBT Group Slams Dean for Threatening to 'Check' Trans Student's Genitals
Mainstream Media Trades in Worst LGBT Stereotypes, Review Finds
Thammasat Cites Risqué Lipstick for Rejecting Transgender Prof