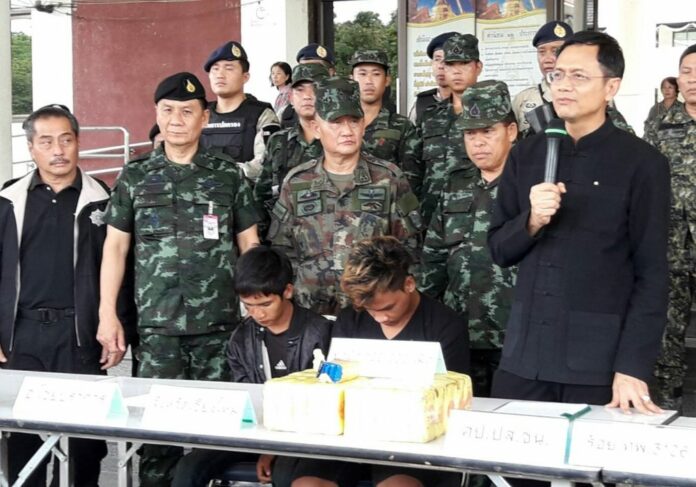 BANGKOK — Junta chairman Prayuth Chan-ocha on Friday urged police to end the practice of parading suspects in front of the press and forcing them to talk about their alleged crimes.
It's the second time Prayuth has publicly spoken out against the tradition of the perp presser, which has long been a hallmark of criminal justice and the symbiotic relationship between the media and law enforcement, despite complaints from civil rights activists. In a speech, the general said it violates suspects' rights.
"I would like to send a message to police that holding a news conference with a suspect is, I think, not always necessary," Prayuth spoke at a police award ceremony held at Government House. "They don't have to bring the suspect. Just only show the images is enough."
Read: Perp Pressers to Continue Despite Prayuth's Concern for Human Rights
He also urged the media not to participate in police news conferences or report their remarks.
They shouldn't bring out the suspect and make them talk and turn things messy, because they are suspects," Prayuth said. "They have the right not to say anything. They should only speak in the court of law, not to the media. And the media shouldn't ask questions of the suspects. The media must share responsibility. I sympathize that the media want news, but sometimes it can be damaging."
Like "crime reenactments," police news conferences are a ritual that has become synonymous with police work and crime news.
In these perp pressers, suspects are usually seated in a police station meeting room behind a table littered with evidence implicating them in their alleged crimes. Police recite to reporters what the suspects are accused of, and at times the latter speak to reporters directly.
They're popular with both police and media. The former want their work to be featured in the news, while the latter wants images and juicy soundbites. On occasion victims or their relatives have assaulted suspects, providing tabloid-ready images for the press.
Police say the practice helps the public understand the nature of crimes and allows criminals to repent their crimes, though rights activists say it convicts suspects in the court of opinion before they go to trial.
Prayuth first joined the ranks of critics in September when he called for an end to the practice in a letter to the Ministry of Justice. Police commanders refused to comply but said they would only hold news conferences with suspects who consent.