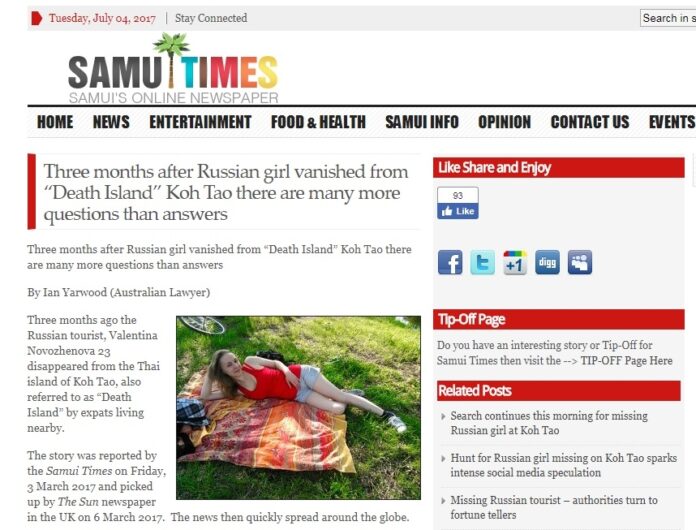 Update: Samui Times has responded to the news report. 
BANGKOK — Surat Thani governor told reporters Monday he intended to sue an English-language news website for nicknaming Koh Tao "Death Island."
Uaychai Innak said such labeling by Samui Times "distorted" the situation there and damaged the island's reputation as a tourist destination. A string of foreigners' death has made the island infamous in recent years – most recently that of a Belgian tourist, ruled by police as suicide.
"False accusations and distorted news coverage has caused a negative image to the tourism sector in the province," Uaychai was quoted as saying by Matichon. "As the provincial governor, I represent someone directly damaged by this."
Uaychai said he had ordered lawyers at the city hall to prepare a case against the news agency.
The governor could not be reached for comment as of Tuesday morning. Someone answering phone at his office said Uaychai was out on state business.
Samui Times regularly publishes news articles about Koh Samui and neighboring island, Koh Tao. It has given extensive coverage to foreign backpackers who either died or went missing on Koh Tao; the latest case being 30-year-old Belgian tourist Elise Dallemagne who was found hanged in a jungle in April.
The news site often refers to Koh Tao as "Death Island," though it attributes that nickname to international media reports and expat communities.
Emails seeking comments from Samui Times were not answered as of Tuesday morning.
Libel is a criminal offense under Thai law. Civil rights advocates said the charge is often used by the authorities to discourage media agencies from reporting on controversial topics.
Related stories:
Bangkok Governor Files Libel Charge Over Satirical Newspaper Article