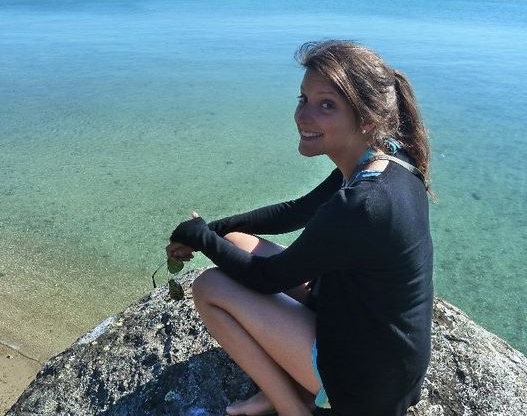 BANGKOK — Police on Monday searched a residence that belonged to a spiritual mentor of a Belgian tourist who died on Koh Tao two months ago, a death her family found suspicious.
Media reports said Elise Dallemagne, 30, actively participated in a New Age group led by Raaman Andreas before she was found hanged in a jungle on the island in April. Police said they wanted to question Andreas about the incident, but the self-proclaimed guru had already left Thailand.
"He left the country two months ago," Deputy Surat Thani police commander Preecha Kladsawad.
Read: Koh Tao Cops Investigate 'Suicide' of Belgian Tourist
Although Col. Preecha described Andreas as an "Indian national," foreign media reports suggest he's German.
Preecha added that police did not find anything illegal at Andreas' former residence, which also doubled as an ashram for his spiritual group.
"His ashram and teachings did not violate the laws," the colonel said. "There was no evidence that points to any criminal wrongdoing."
Andreas did not immediately respond to messages sent to his Facebook account. His website, where he published teachings based on the Indian cult figure Sathya Sai Baba, had been made inaccessible by Monday. The site now requires a password to view it.
Dallemagne last talked to her family on April 17 while vacationing on the island, 10 days before she was found hanged in the Tanote bay area. Police ruled at the time that she had committed suicide, but were forced to reopen the investigation after Dallemagne's family took to social media to voice their suspicion that she might have been murdered.
In an interview with The Mirror, the guru said he last saw Dallemagne shortly before she went missing.
"She was preparing herself to go home, and I was preparing for my visa run to leave the island, so we hardly interacted in that time," Andreas said.
Investigation Ongoing
After social media users accused local Koh Tao police of covering up Dallemagne's death, central police force in Bangkok dispatched detectives to assist the investigation.
Crime Suppression Division commander Suthin Sapmuang said their work is ongoing.
"At this moment, we have no people of interest," Maj. Gen. Suthin said.
Suthin added that forensic police recently confirmed Dallemagne committed suicide.
Media reports have previously quoted Dallemagne's mother, Michele van Egten, as saying she never received an autopsy report from the police.
Both Suthin and Preecha disputed this; Preecha said the autopsy report was submitted to the tourist's family via the Belgian embassy on June 15.
But as of June 26, Egten had written in an online post that she had yet to see the report.
"Please respect the following question : about Elise, just write to me in private if you are a friend of her or maybe a witness of what happened to her," she posted in a Facebook page of the yoga group Dallemagne belonged to. "The police investigation is not finished and we are still waiting for the autopsy report. Thank to all of you."
Known for its pristine diving spots, Koh Tao gained an unsavory reputation in recent years due to a string of foreigners' deaths on the island, including that of two British backpackers murdered there in September 2014.
Related stories:
Search Called Off for Missing Russian Woman on Koh Tao
Injustice Echos From All Sides Two Years After Koh Tao Murders
Koh Tao Murders: Court Says DNA Trumps Other Flaws in Case