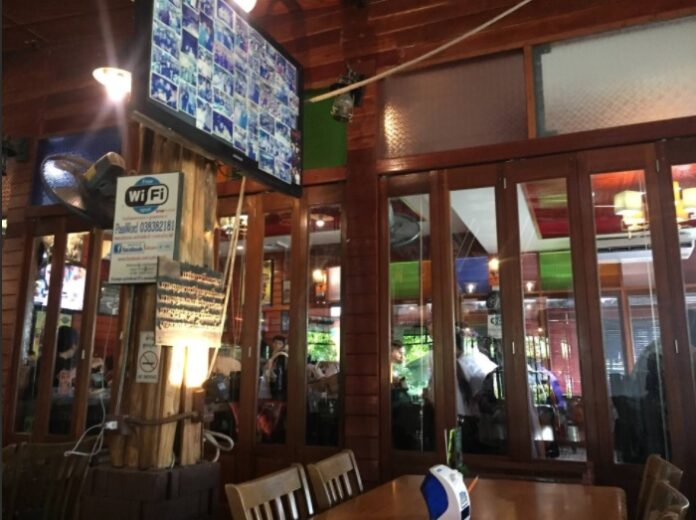 CHONBURI — Police are expected to protect and serve the public. But two police officers learned Saturday that they are also expected to take a very hungry official to a restaurant.
In a police memo leaked to the press on Monday, officers Kittikhun Saengrueng and Anuphap Phopim from Chonburi province said they were forced to apologize to a man who identified himself as a public prosecutor for disobeying his orders – that he be driven to an Isaan cuisine restaurant on Saturday.
"Listen to me, I have already identified my rank as a prosecutor from Bangkok!" the man can be heard saying in an audio clip one of the policemen recorded during the encounter. "You have to show some respect to the prosecutor!"
By Tuesday, provincial police had pledged an inquiry. The incident also gained widespread attention on social media, where many saw it as yet another proof of figures in law enforcement willing to bend the law to their own benefit.
"I pity the cops. Our country is messed up because the high-ranking people abuse their power," wrote the admin of Queen of Spades, a popular Facebook page that often publishes leaks and stories about controversial issues. "This is SOTUS in life, it's disgusting."
According to a Saensuk Police Station memo penned by Kittikhun and Anuphap, the two officers were on a patrol in Chonburi at about 5pm on Saturday when a motorist honked at them to stop. Upon investigating, the man asked them for the location of a certain laab restaurant called Larb Ubon 5, which Kittikhun and Anuphap told him he already passed – requiring him to make a U-turn.
That's when the man reportedly identified himself as a public prosecutor and ordered the pair to escort him to the restaurant. Kittikhun said he refused on grounds that they were on patrol duty before the man said he would complain to their supervisors.
The memo named him as Thanapol Chutatemee, a prosecutor at the Attorney General Office's narcotics department. Someone answering the phone at Thanapol's office said he took leave until Friday.
Kittikhun said the station chief, Jaruwat Suriyathip, later phoned him and his cop partner that day, asking them to "apologize and reach understanding" with the self-identified prosecutor at the restaurant. Kittikhun agreed and recorded the encounter.
"So do you know why you are here, what you did wrong?," the man said, using the pronoun mueng, a vulgar form of addressing another person.
"No, I don't know what I did wrong, sir," Kittikhun replied.
"So you still don't know?" the man said.
"No, sir." Kittikhun said.
"Then I'm going to talk to your superintendent," the man said.
At the end of the confrontation the self-identified official could be heard throwing something on the floor and shouting that he would have Kittikhun locked up. Kittikhun could not be reached for comment Tuesday, though his supervisors told the media the officer had not been punished.
High Rank, Higher Privilege
Cases of high-ranking bureaucrats exploiting their privileged status are source of common complaint on Thai social media, with offenders routinely being given a slap on the wrist for their abuse of power. Many cases have gone unpunished.
After a senior custom official slapped an airport staff member for making him go through security screening in 2012, his agency only found him guilty of a "minor disciplinary violation" and no punishment was handed down.
"Goddamn. In a country where a person like this is a prosecutor, who can I rely on? Even the police have to bow to him," one user wrote in a Facebook thread about the laab episode.
Saensuk station chief Jaruwat declined to comment.
"I cannot give any interview right now," he said by phone. "I hope you understand me."
Provincial police chief Somprasong Yentuam said the matter was under investigation.
Somprasong also said it is still unclear whether the man in question was a prosecutor named Thanapol Chutatemee as described in the leaked police memo; adding that he had asked Kittikhun and his partner Anuphap, who told him they were no longer sure of his identity.
"We don't even know if this person was really who he claimed to be," Maj. Gen. Somprasong said by phone.
When asked about the memo, which named the man, Somprasong said he has not seen it and questioned whether it was a genuine document.
He also disputed that Jaruwat ordered his subordinates to apologize to the man.
"Someone complained to him that some officers acted arrogantly and behaved badly to the public," Somprasong said. "So the superintendent called to ask, and told them to meet the person to reach some understanding … he didn't even know who this man was."
Related stories:
Thai Commerce Official Arrested in Japan for Stealing Hotel Paintings