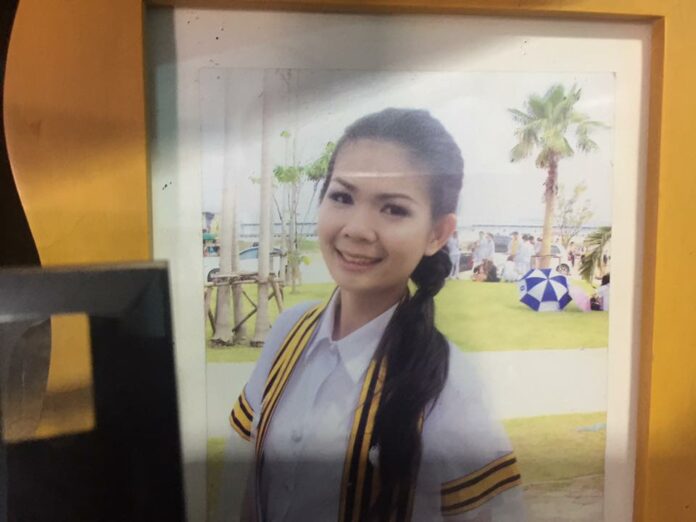 SARABURI — A 29-year-old soldier was under military detention Monday on suspicion of kidnapping a woman and murdering her three years ago.
Police said Sgt. Polkrit Wiset confessed under interrogation to killing his partner, Ploynarin Pleepol, in a jealousy-driven rage in May 2014, shortly after he abducted the 25 year old from her home. Ploynarin's family has spent years searching for her, but progress only came after they petitioned junta chairman Prayuth Chan-ocha and top police commanders for help.
Deputy police commissioner Sivara Ransibrahmanakul told reporters Sunday he has ordered investigators to solve the case quickly.
"This case is of interest to the general public and the media," said Gen. Sivara, who moved to oversee the investigation after receiving the petition.
Ploynarin's family sought help from the junta chief on Aug. 1. Ten days later, police told the media they had information concerning Ploynarin's fate. On Sunday, they announced Ploynarin had been murdered, and a soldier who committed the crime arrested.
Citing Polkrit's testimony, police said the victim was strangled to death.
They later took Ploynarin's family to a wooded area in Saraburi province where her body was reportedly burned. Police also unearthed skeletal remains believed to belong to the victim.
Polkrit reportedly told police he acted alone, but an investigator in the case said he believes the suspect may have had help.
"He likely killed her on his own, but I don't believe he could take her body there and burned it alone," Col. Pattarapat Nuchyuang said by phone.
But he said vital evidence would be hard to find, given that it's been three years since the murder. For instance, no CCTV footage related to the case is available, Pattarapat said.
Her father, Wicha Pleepol, said he had hope that Ploynarin would still be alive.
"Throughout the three years, I missed my daughter all the time," Wicha told reporters. "I prepared myself for whether she's alive or dead, but I still had hope."
Ploynarin went missing May 21, 2014. According to police, Polkrit said Ploynarin found out he was cheating on her and wanted to breakup. Consumed by anger, he kidnapped and murdered her, police said.
Polkrit is being held at an army base in Nakhon Ratchasima province for questioning. Per a special junta order, suspects in crimes can be held on military bases up to seven days.
The soldier has been charged with a variety of offenses including murder and kidnapping. He will be tried by a military court.
Related stories:
Soldier Jailed for Shooting At Student Whose Motorcycle He Hit