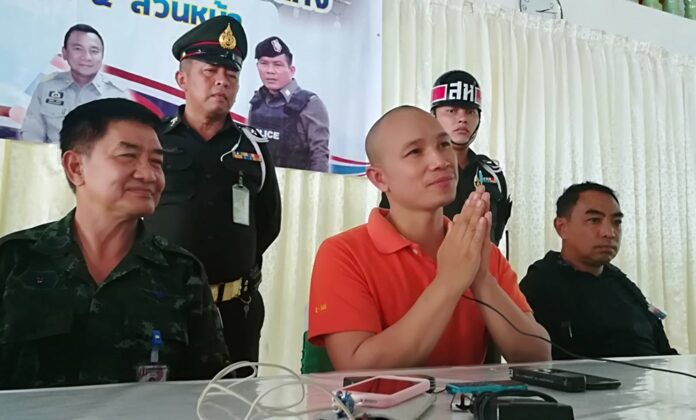 PATTANI — A soldier apologized Wednesday for firing his handgun at a female student in the Deep South, where security officers have been accused of harassing local residents.
For allegedly firing his gun and threatening to kill the student, 31-year-old Preecha Intarangsee was charged with attempted murder and other firearms offenses. He had been placed in military prison Wednesday afternoon, police said, adding that the victim, a Muslim woman, was distraught by the incident.
"She's very scared. He had a gun. It's the first time someone shot at her," said Sirisak Wangkulang, an investigator at Pattani City Police Station. "She's just a student."
In a statement published today, the Prince of Songkhla University said one of its students, Hanan Suden, was riding a motorcycle along a road in Pattani province at about 6pm on Tuesday when Preecha, who was off duty at the time, bumped his car into her.
Hanan reportedly followed the vehicle to Preecha's home to discuss compensation, but the soldier responded by firing his handgun in her direction, prompting her to flee. The university statement said Preecha fired at least five shots and shouted that he would kill Hanan if he saw her again.
Hanan and her friends went to the police station and filed a complaint, leading to Preecha's arrest. He was subsequently charged with five offenses including attempted murder and illegal possession of a firearm.
Preecha belonged to the army rangers, one of many military units stationed in the southern border provinces of Pattani, Yala and Narathiwat to combat the separatist movements there. The region is known for ethnic and religious strife between Buddhist Thais and Muslim Malays.
At a news conference held by the army, Preecha said he's sorry for what happened, blaming his antics on alcohol and family issues.
"I was drunk," Preecha said. "I had problems in my family."
Capt. Sirisak said Preecha will be tried by the military court. The soldier was denied bail and jailed at the 46th Army Circle base, he added.
"I saw him getting locked up myself," Sirisak said. "He was chained in his cell, and his head was shaved."
Monitoring groups say more than 6,800 people have died in the 13-year long conflict between security forces and insurgents, who aim for the secession of three southern provinces to form an independent Muslim state.
While the majority of fatalities have been caused by suspected separatist attacks, civil rights groups for years have criticized the military for its heavy-handed tactics and human rights violations. Previous cases of soldiers shooting civilians led to widespread suspicion toward the authorities among the local populace, activists have said.
It's the second incident involving soldiers and firearms in two weeks. One week ago, an air force officer was accused of pointing a gun at a rock singer playing a show in the northeast. He was later charged with firearms-related offenses and jailed at a military facility.
Related stories:
Torture in Deep South Systematic and Spreading Elsewhere, Rights Groups Allege