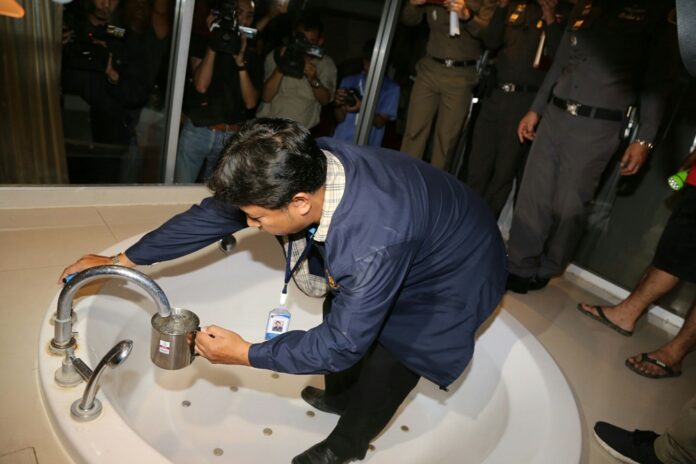 BANGKOK — After allegedly finding underage girls, human trafficking and prostitution, investigators literally got to the bottom of a brothel recently raided to unearth evidence of another crime.
Police filed fresh charges Tuesday against Victoria's Secret management for allegedly pumping groundwater for the bubbly pleasure of its customers, a problem at the capital's many commercial sex venues that officials say is speeding its sinking.
The inspection of the brothel's waterworks near Rama IX Road was led by a police unit specializing in environmental crimes and officials from related departments. Col. Suwat Inthasin, who oversaw the operation, said tests showed Victoria's Secret was illegally leeching from the water table.
Read: Bangkok Literally Sinking in Sex as Brothels Steal Groundwater
"It's confirmed now that they were using groundwater," Suwat said in a Wednesday interview. "That area is a restricted where pumping groundwater is forbidden. It's against the law."
The city's waterwork agency is also planning to sue the brothel management for financial compensation over environmental damages, Col. Suwat said.
Tapping groundwater without permission is punishable by up to six months in jail. Victoria's Secret once had a permit to pump groundwater, but the license expired in 2003.
Police subsequently ordered the inspection of four other "massage parlors" operated by the same owner of Victoria's Secret – Long Beach, Embassy, The Lord and Copacabana  – over the next several days to see if they do the same.
Suwat said the inspection will take some time because the water utility is shorthanded of experts and staff.
"I know the media wants to have quick news," the police colonel said. "But somethings can't be quick."
Prior to Tuesday's raid, city officials have warned that massage parlors, a thin euphemism for brothels, are stealing groundwater for their massive daily water consumption and accelerating the capital city's annual rate of subsidence.
Pumping has exacerbated the problem in Bangkok for most of its modern history as rapid development put pressure on the aquifer in a place that is geologically delicate due to being a floodplain and its thick, permeable ground layer of clay.
The city sank by as much as 1.2 centimeters in a single year in the early '80s, according to a 2006 paper in Engineering Geology.
Despite alarms raised by the city, police had not taken any action against the massage parlors until Tuesday, after the scandal broke about Victoria's Secret, where a ledger apparently detailing free services for high-ranking officials was also found.
Investigators identified businessman Kampol Wirathepsuporn and his wife Nipha Wirathepsuporn as operators of the brothel, though they remain at large. The pair has been charged with 12 offenses, including human trafficking, pandering, profiting from underage prostitution and abetting illegal immigration.