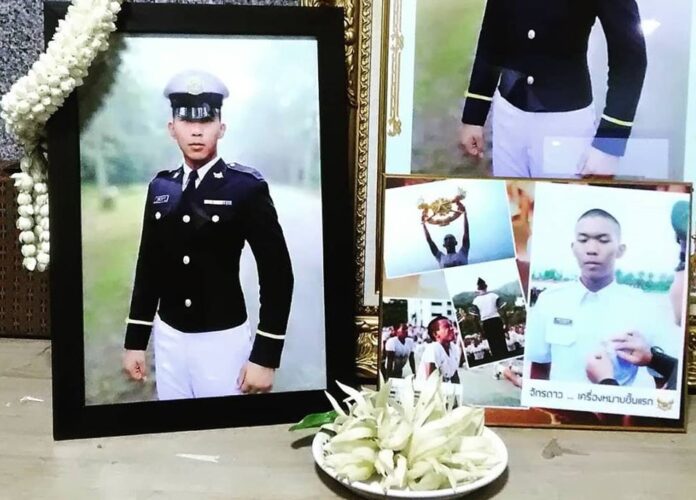 NAKHON NAYOK — The family of a military cadet has taken legal action against three people they believe played a role in their son's death six months ago, police said Monday.
In their recently filed complaint, Pakapong Tanyakan's parents accused two doctors and a cadet of involvement in his death, according to Baan Na Police Station chief Kasin Thamrongsrisuk. He also pledged to speed up the investigation in an interview today, a day after Pakapong's family complained of delays.
"They believe the doctors did not give good adequate treatment to him, so he died. We will have to see what the evidence and witnesses say," Col. Kasin said. "We have already questioned all of the accused. Now we will question witnesses."
Kasin said Pakapong's family alleged the cadet assaulted Pakapong while the two doctors turned a blind eye to the abuse. He said he didn't have the names of the accused on hand.
Pakapong's mother, Sukanya Tankayan, told reporters yesterday the investigation should have been faster. She also did not identify who was named in their complaint and could not be reached for comment Monday.
"It's been 192 days. If you ask for my feeling, I feel that everything is full of delays," Sukanya said Sunday. "Our family has not seen any new developments."
Kasin disputed that police have slow-walked the case. A detailed autopsy of Pakapong was completed following months of little or no progress, he said, noting that a separate charge filed against the unnamed cadet accused of assaulting Pakapong was already forwarded to prosecutors.
He declined to disclose the findings of the autopsy.
"It's now evidence in a criminal case," Kasin said.
Pakapong died in October at 19 from what the military described as "sudden heart failure" one day after returning to the Armed Forces Preparatory School from a break.
On March 18, the prosecutor's office indicted an unnamed cadet on charge of physical assault. His name was not released to the public, but police said he ordered a disciplinary punishment on Pakapong back in August. The student will be tried in a military court.
An internal army investigation blamed Pakapong's death on a "sudden heart failure." Investigators also ruled out physical abuse – which the family suspected – and said a broken rib found in the teen was caused when the cadet fell down eight flights of stairs.
The family first raised its suspicions after discovering Pakapong's body had been returned to them with a number of vital organs missing, including his brain and heart. They were eventually returned after outrage broke out on social media.