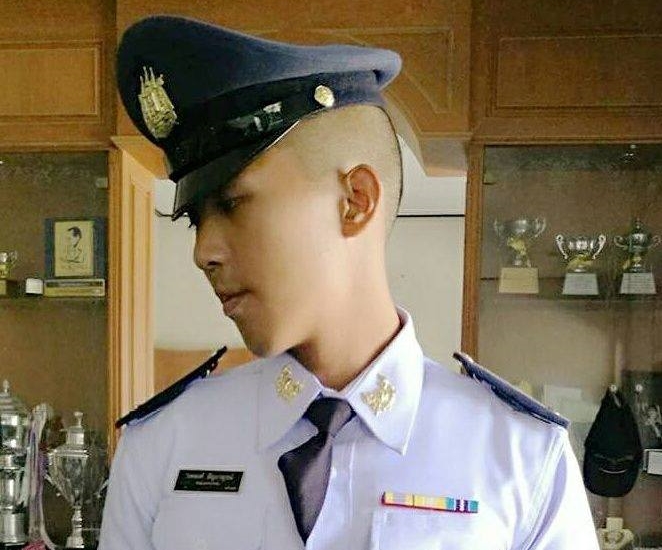 BANGKOK — The family of Pakapong Tanyakan was told last month that the 19-year-old military academy cadet had died abruptly. They were told his death was caused by "sudden heart failure," but a detailed autopsy report never came.
Suspicious of the delay, his family secreted his body away on the day it was to be cremated and took it to a private hospital. That's when they were told that many organs including Pakapong's brain, heart, stomach and bladder were missing.
"I was curious why the brain of my brother was so mushy. What did they do to it?" Supicha Tanyakan said at a Tuesday news conference. "No. It turns out, when they opened up his skull, there was only tissue paper to soak up his blood."
Pakapong's family is now demanding to know the truth of what happened to him and his organs. Military officials today declined to comment on Pakapong's death, the latest in a string of suspicious deaths to take place inside the secretive realm of military training and conscription.
"I haven't received a report about this yet," defense minister Prawit Wongsuwan told reporters, looking visibly surprised at the news.
Defense spokesman Kongcheep Tantravanich referred questions to the director of the Armed Forces Academies Preparatory School in Nakhon Nayok province, where Pakapong was enrolled. Someone answering phone said the academy's director, Maj. Gen. Kanokpong Channual, was driving to Bangkok and unavailable for comment.
Supicha said no one from the military has contacted her to explain what happened.
She added that Pakapong's body is now undergoing an autopsy at the national forensic science institute, and that she's waiting for the results before taking any action.
"We are not making any accusations about what caused his death yet," Supicha said. "We are not forcing the forensic doctors to hurry up at all, because we want precise and accurate results."
However, the inquiry is being hampered by the fact that his organs are missing.
"There's a delay because they have not returned the organs of my brother yet," Supicha said.
Pakapong died on Oct. 17, just two days after he returned to the academy from leave. An army-organized autopsy ruled he died of sudden heart failure without further explanation.
On the day Pakapong was to be cremated, his classmates performed a fancy drill in his honor, and academy director Kanokpong said an investigation was underway to find out whether the cadet died of foul play, promising to notify the family when the results were available.
"We are not delaying our work. It's proceeding," Maj. Gen. Kanokpong said Oct. 24.
But the cremation never happened. While the undertaker pretended to set the ritual in progress, Pakapong's family took his body in secret to a private hospital for an autopsy where they made the gruesome discovery.
On Monday, Supicha said doctors also found that Pakapong's ribs were broken in some places, possibly due to blunt trauma.
In a TV interview aired Monday night, his family displayed a diary kept by Pakapong which mentioned being punched in the belly and disciplined in late May.
Academies such as the Armed Forces Academies Preparatory School are considered elite colleges for cadets entering military careers on officer tracks. Admission to the school, whose alumni count many heads of government, is done through rigorous exams that require months, if not years, of preparation.
"I am very proud to pass the exam into armed forces school, both in academic and physical rounds. For me, I prove what I committed to do for three years," Pakapong wrote in another entry. "I had to fight through insults from other people and myself. I insulted myself that I'm 'a pig in the real field, a lion in the practice field,' because when I practice, I do well, but when I have to do it for real, I often fail."
The armed forces have a long history of physically abusing recruits and cadets, with occasional deaths resulting. These deaths are rarely explained, and families who seek the truth have been met with silence from the authorities or even prosecution.
Related stories:
Army Compensates Family of Thai Soldier Killed By Drill Sergeants
Army Plays Down Risks After Another Draftee Dies