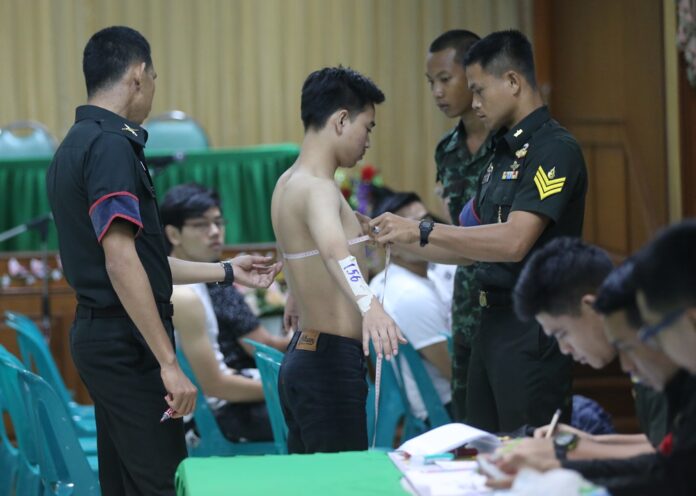 BANGKOK — Those conscripted for this year's draft season need not to worry about the news of a recruit being beaten to death by fellow soldiers, an army spokesman said Monday.
The soldier, 22-year-old Yutthaginan Boonniam, died at a hospital in Surat Thani in the early hours of Saturday, his family said. His death, the latest reported case of fatal abuse within the army ranks, coincided with the start of the annual draft that will place up to 103,000 men in a two-year service.
Army spokesman Winthai Suvaree said Yutthaginan appeared to have been assaulted during his detention in a provincial military prison, and that the military is taking the matter seriously.
"This case happened in an army prison, not the base where the training takes place, so it might have led to inappropriate behavior," Col. Winthai said. "Now that it happened, we will see if anyone has done something wrong. No one will be above the laws of the country."
The news first broke when someone who claimed to be a relative of Yutthainan posted about the soldier's death on a popular Facebook page, saying that he wanted justice for Yutthainan who was beaten while he was detained for unspecified misconducts.
"He was in very bad shape, his internal organs were severely damaged," Bom Lung Lang wrote in captions to photos of Yutthaginan's injuries. "Doctor tried to resuscitate him four times, but he died at 5:00am."
News reports described Yutthaginan as a recruit at Vibhavadi Rangsit army base. Bom Lung Lang did not immediately reply to messages seeking inquiry.
Many comments in the post express outrage at yet another report of military brutality.
"This is what I'm really afraid of: people mad with power bullying their subordinates," wrote user Nattaphum Promlao. "Let me ask you: who would want their children to be soldiers? They go to serve their country, yet this is what they received?"
Another user, Nameless Dcub, wrote: "Why did they have to use violence like this? If he did something wrong, he should be punished according to regulations, not beaten to death like this. People who are willing to serve their country will be disheartened if you hurt people like this."
Although Yutthaginan was the most recent in a string of recruits to be killed at the hands of their peers or superiors, spokesman Winthai said that what happened was an isolated case and draft recruits are well treated.
"This has nothing to do with the recruits," Col. Winthai said. "In all previous years, it went well, because all units take care of their new soldiers as if they were their own relatives. In the news, you can see people speaking positively about their experience. New soldiers have nothing to fear."
He also said police will be handling the criminal investigation and the military will not interfere. Surat Thani police chief Apichart Boonsriroj could not be reached for comment but he told reporters this morning that officers will be impartial in their work.
To alleviate any fear of influence from the military, the victim's family will be placed in witness protection program, Maj. Gen. Apichart added.
Men over 21 are required by law to report for two years of mandatory service, unless a physical or mental condition prevents them from doing so. Transgender women who acquired certificates from psychiatrists and those who underwent military training in high school are also exempt.
The conscription system has a long history of recruits being abused, sometimes fatally.
When the draft season opened last April, a 23-year-old recruit was beaten to death by a group of army officers in Yala. In the same year, a 21-year-old recruit was beaten by two soldiers on an army base in Nakhon Si Thammarat, breaking his jaw. In June 2011, more than 10 officers assaulted and killed a 25-year-old draftee in Narathiwat.
Other tales and videos of abuses against draftees are occasionally shared on social media, sparking an ongoing debate about whether to reform, or even abolish, the country's conscription system.
The National Human Rights Commission is reportedly set to discuss with the issue of Yutthaginan's death on Tuesday.
Clarification: Police said an earlier disclosed spelling of Yutthaginan's name was incorrect.
Related stories:
Junta Critics Say They Will Defer Army Draft
New Recruit Beaten to Death As Draft Season Begins
Shackled Soldier Told to Respect Chain of Command
Reserve Act Opens 12 Million to Summary Military Conscription