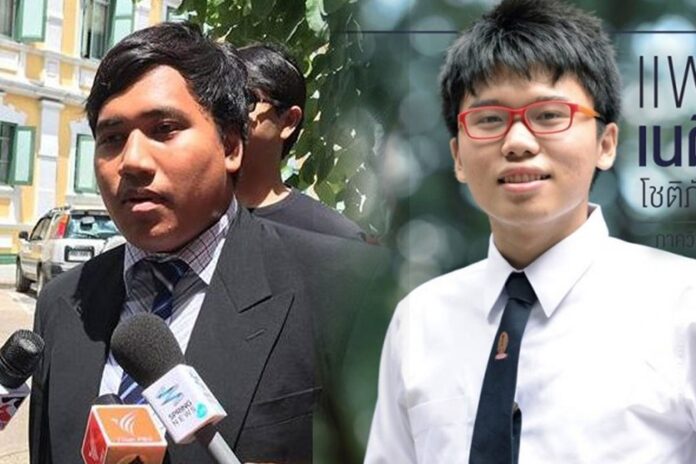 BANGKOK — Hundreds of thousands of young men slated to report for military conscription next month include two prominent student activists who have campaigned extensively against the military regime.
Both Sirawith "Ja New" Seritiwat and Netiwit "Frank" Chotiphatphaisal said they will seek either a deferment or an exemption. One expressed concern that if he is enlisted he might be singled out for mistreatment by other soldiers in an organization with a long history of abusing recruits, sometimes to the point of death.
"Of course I'm worried. Even though I'm not under the military chain of command right now, some people in the army have used violence on me," said Sirawith, who is on trial before a military tribunal. "It's clear that they will use violence on me if I'm in their system … even if the commander-in-chief swears on the Emerald Buddha they won't use violence, I won't believe him."
Sirawith said he will seek exemption from the draft because he has a medical condition, which he declined to specify. The 24-year-old Thammasat University student previously postponed the draft on the grounds he was still studying his political science degree, but he's since graduated.
Netiwit, a political science freshman at Chulalongkorn University, said he would ask for a deferment because he is still working on his degree. He said he believes the army will grant his request.
"I don't think I would be singled out, because I'm a high-profile person," Netiwit said by telephone. "I have also completed my deferment application without any problem. I don't think anything will happen."
Men over 21 are required by law to report for two years of mandatory service unless a physical or mental condition prevents them from doing so. Transgender women and those who underwent military training in high school are also exempt.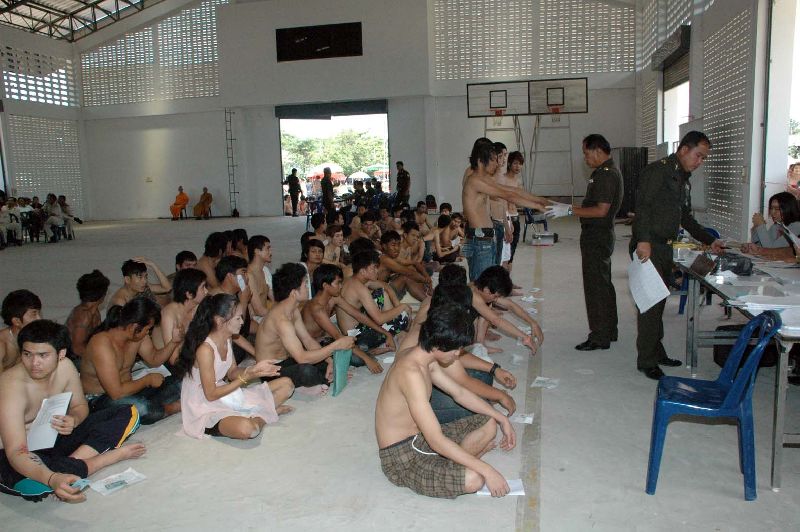 Sirawith and Netiwit must appear at the draft centers along with other potential draftees on April 6. The army says it needs 103,000 recruits to fill the ranks this year.
As leaders of the young progressive camp, the two have been vocal opponents of the military regime and mandatory conscription, which they said violates human rights and perpetuates the army's influence over the society.
In an interview with Voice TV, Netiwit said army life is not for him because he can think for himself.
"They want to make someone like me to follow their discipline. If they say go and die, I have to go and die. If they say drown yourself, I must drown myself. It doesn't make sense." Netiwit said. "It [conscription] destroys creativity. It's not for me, and it's not for many people."
An army representative said both men should just sign up for the draft and serve their country.
"It's the duty of every Thai man," Lt. Gen. Weerachai Inthusophon, commander of Thailand's reservist corps, told reporters. Weerachai also warned that draft dodgers face severe consequences, from jail to being ineligible for employment.
Sirawith disputed Weerachai's statement about serving his country, saying there are other ways to do good for Thailand without being in the military.
"There are many ways to serve one's country," Sirawith said. "If you're not ready to be a soldier, don't be a soldier. There should be incentives for people to be in the military instead of forcing everyone to be soldiers."
Lt. Gen. Weerachai said Sirawith and Netiwit have nothing to fear from the military.
"I'd like to assure Mr. Netiwit that he doesn't have to be afraid he will be bullied if he's enlisted because we never bully anyone," he said. "No one can be above the law. If security officers bully anyone, they will be held accountable."
Nonetheless, the army has a record of brutalizing recruits. When the draft season opened last April, a 23-year-old recruit was beaten to death by a group of army officers in Yala province.
In the same year, a 21-year-old recruit was beaten by two soldiers in an army base in Nakhon Si Thammarat, breaking his jaw. In June 2011, more than 10 officers assaulted a 25-year-old draftee in Narathiwat province, killing him.
Related stories:
New Recruit Beaten to Death As Draft Season Begins
Shackled Soldier Told to Respect Chain of Command
Reserve Act Opens 12 Million to Summary Military Conscription