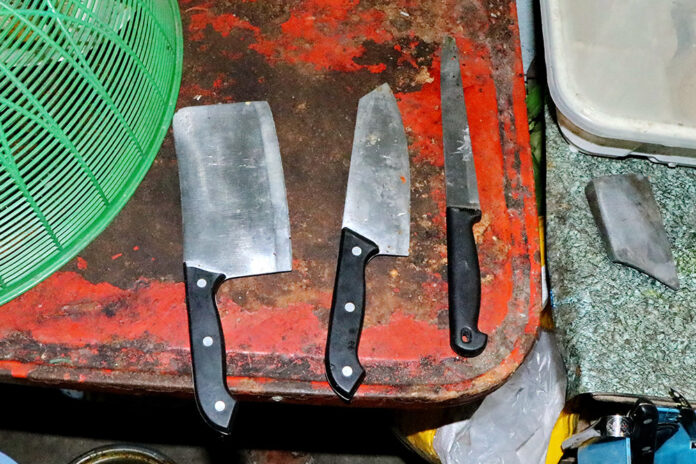 RATCHABURI — Police retraced the steps of a man who woke with his penis missing to a suspect who reportedly said he used a kitchen knife to cut the man after he sexually assaulted his wife.
A day after the man, identified only as Suwit, woke up in a hospital emergency room with his penis gone and other serious injuries, police Monday identified and arrested his boss, who they said confessed to committing the crime out of rage.
Read: Drunk Ratchaburi Man Wakes Up Without Penis
Contrary to Suwit's story that he was drinking with his colleagues at a karaoke parlor, the suspect, Poemsak Phetprasert told police they were drinking at his house, where Suwit and another colleague – all are from Trang province – had been staying.
Poemsak said he and the unidentified colleague went out to buy more beer at about 2am and returned to see his wife, who had been asleep in the bedroom while they were drinking, fleeing Suwit and accusing him of sneaking into the room to attempt to rape her.
The angry husband then said he dragged Suwit back into the house, bludgeoned him with an auto tool, hacked off his penis with a kitchen knife and threw it out into the bushes out front.
Police said he then asked a friend to drive Suwit to the hospital after his rage had worn off. He's been charged with causing grievous bodily harm.
Col. Sakchai Intarapreecha, Ban Pong police chief, said they had initially contacted Poemsak as he is Suwit's boss. Next they were able to identify the person who dumped him off at the Ratchaburi hospital emergency room. The mounting evidence, they said, led to Poemsak's confession.
Police officers failed to ascertain the location of the discarded penis. They think it might have been eaten by animals in the neighborhood.
Sakchai said they will wait for Suwit to make a full recovery before considering charges against him.