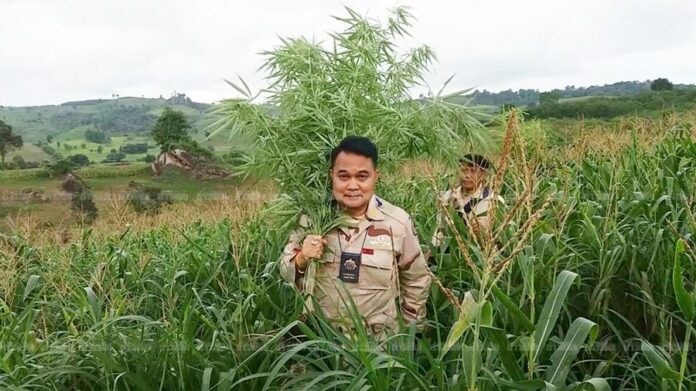 BANGKOK — Health officials said Wednesday that the full rollout of medical cannabis is unlikely to happen as scheduled due to a legislative holdup if February elections go forward and a new government comes to power.
Lawmakers have quibbled over details in a broad rewrite of the Narcotics Act that would partially decriminalize a number of drugs including cannabis and kratom. Although companion legislation enabling medical cannabis is close to passage, it would only allow a limited form of it until the revision of the act is in place.
Meanwhile the military government has proposed fast-tracking a stopgap measure that would decriminalize only cannabis for research and medical use.
On Wednesday, a member of the special parliamentary committee provisioning the new law said it is unlikely to pass before elections slated for February, as the latest debate recently ended with no major breakthroughs.
Chulalongkorn University neurologist Thiravat Hemachudha, a legislative committee expert, said Wednesday that holding the election in February would dampen hopes for medical weed.
"The timeline indicates that these pieces of sub-legislation could be completed by April 2019. But if the election is actually held in February, it won't be done under this government," he said.
Despite the military government's interest in overhauling drug policy before a new administration comes to power, junta leader Gen. Prayuth Chan-ocha has ignored calls to invoke his absolute power to speed up the process.
Thiravat said four additional legislative subcommittees will be set up to devise subordinate laws to make the new bill more effective in terms of regulation and rehabilitation.
The military has meanwhile proposed a separate law that would only legalize cannabis for medical and research purposes, details of which Thiravat said yesterday were still being discussed, such as who would be authorized to prescribe the drug and whether private cultivation would be allowed.
As for a way to fast-track the process, Thiravat said the Food and Drug Administration could propose regulatory changes directly to the Health Ministry, which has been authorized by the National Legislative Assembly to work on the new narcotics bill's subordinate laws, including reclassifying the Class 5 narcotics into Class 2, which would allow limited medical use.
Tares Krassanairawiwong of the FDA however said the Health Ministry could only legalize the medical use of cannabinoid extract, aka CBD, which is used to treat patients but does not contain THC, the psychotropic narcotic compound found in cannabis.
A grey market for CBD already exists in Thailand, commonly for patients undergoing chemotherapy.
Tares added that the department would assume sole authority over the regulation and distribution of medical cannabis once it becomes legal, under guidelines similar to morphine. Use would be limited to treating nausea in cancer patients, epilepsy in children unresponsive to other treatment, multiple sclerosis and severe pain.
Expert committee member Thiravat said legalization should apply to cannabis – not just CBD extracts – to make it available to folk medicine practitioners and people in remote areas.
"The current use of marijuana as medicine can almost be standardized. We can already tell that how much should be used for a particular symptom or disease," he said. "This practice exists in every region of the country, but people in general don't know about it because it's illegal."
He said he would collect research data on patients, mostly suffering from cancer, epilepsy, or chronic seizures, who use marijuana to relieve pain and report its benefits to the legislative committee, which includes members from the FDA.
"I want them to know that using marijuana as folk medicine can actually save people's lives," Thiravat said. "Although it's a life-saving method and can improve the quality of life, it's still illegal."
Correction: A previous version of this article indicated medical use of opium would also be allowed as it was also a Category 5 drug. In fact it is Category 2 and such uses are already allowed.
Related stories:
Lawmakers Eye Article 44 to Speed Cannabis Law
Medical Thai Weed Gets a Launch Date