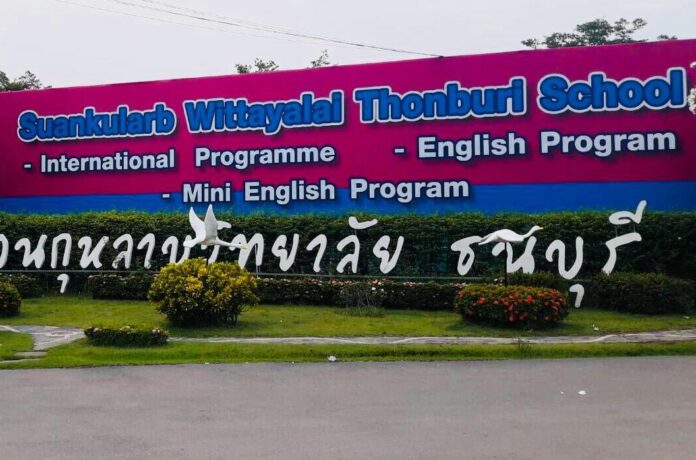 BANGKOK — A teacher accused by students of being a sexual predator is teaching again in Bangkok, a school official said Friday.
Two years after students at the elite, all-male Suankularb School accused Saroj Meepai of preying on children, the teacher was transferred to a school in western Bangkok earlier this week, according to Suan Kularb deputy rector Amnuay Chanhom.
"Disciplinary action was already taken against him. It's time for him to return to school because he's a teacher by profession," Amnuay said in an interview. "But he can't return to teach at our school because of the incident. That would be inappropriate."
Read: To Catch Alleged Predator, Suankularb Students Ran Sting Before Going Public
Instead, Saroj was sent to teach at Suankularb Thonburi, a co-ed sister institution located in a western suburb.
Amnuay said that despite Saroj's posts on a now-deleted Twitter account boasting of sexual relations with many students, education officials ruled there was insufficient evidence a crime had occurred, as no victims stepped forward to testify against him.
"No student would confirm it. None," the deputy rector said. "He was only punished for the inappropriate photos."

His pay was also reduced.
Though Saroj was also charged with spreading pornographic materials online, Amnuay said he's unaware of the outcome of the criminal case. Col. Siriwat Deepor, the police officer in charge of Saroj's case, could not be reached for comment as of publication time.
Suankularb Thonburi rector Pisanu Sripol could not be reached for comment. Someone who answered the phone at his office said Pisanu and his deputies were in a meeting.
The news was met with anger from the Suankularb communities.
"As a teacher at Suankularb Thonburi, I cannot tolerate this man. I will boycott him and not talk to him at all," Thanachit Kobamrung wrote in reply to a news thread.
The anonymous student in charge of the Facebook page that first published allegations against Saroj in 2016 expressed disappointment that he was allowed to continue teaching.
"That's bureaucracy," the Troll Students of Suankularb admin wrote in a message. "If I have children, I won't send them to a public school."

The admin also said none of the alleged victims would step forward because they feared the shame.
"The boys didn't want to identify themselves and file charges," he wrote. "I got in touch with one of them. He said he's afraid his parents would find out."