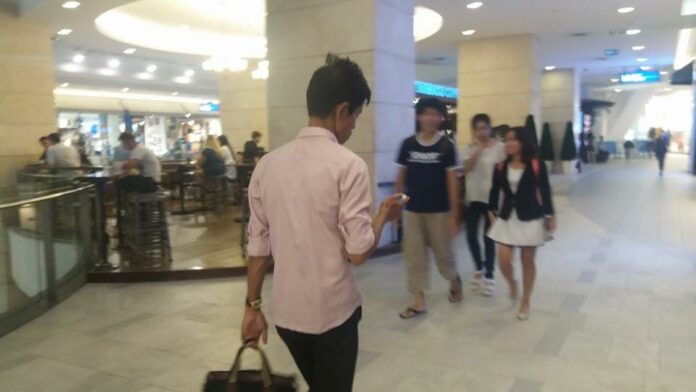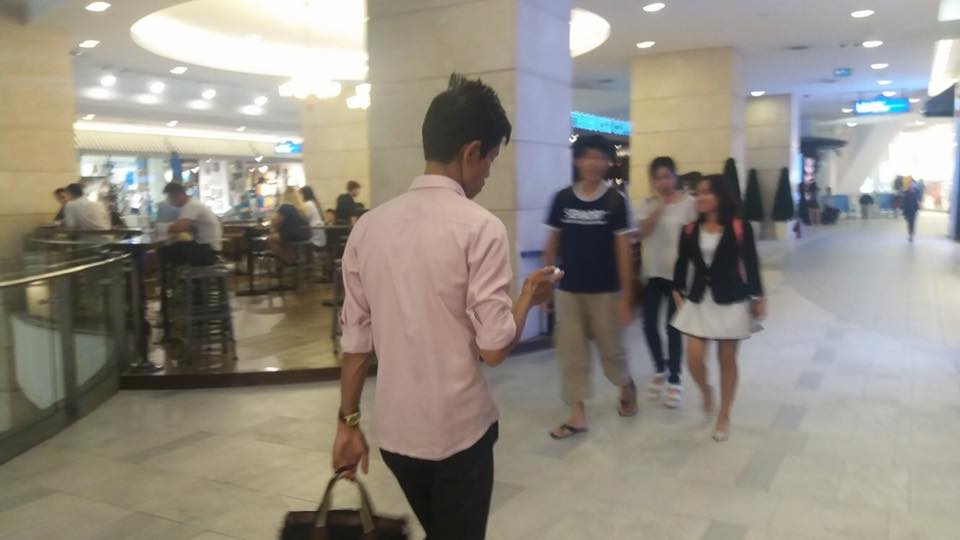 BANGKOK — While the director of an elite boys school defends one of its teachers against allegations of being a pedophile predator, a group of school students has offered proof he knowingly solicited for sex from a minor as recently as Wednesday.
In a series of photos posted online, Saroj Meepai, the now-suspended science teacher at Suankularb Wittayalai, was seen going to meet what he believed to be a 17-year-old schoolboy at a restroom in a downtown shopping mall.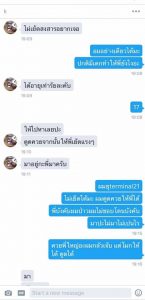 The photos, dubbed "sting operation," were posted Saturday by Troll Students of Suankularb, the same Facebook group that first drew attention to Saroj's Twitter account where he reportedly published photos of the abuse.
The images were posted Wednesday, one day before the page went public with information incriminating Saroj.
Saroj was free on bail Monday, three days after being arrested and charged with uploading child pornography to the internet.
As set forth by Troll Students, a student contacted Saroj via chat application on Wednesday, introducing himself as a 17-year-old schoolboy. According to images purported to be of their chat, the student asked Saroj if he wanted to meet for sex in a public restroom at the Terminal 21 shopping mall. The teacher readily agreed, according to the chat, and the pair arranged a meetup at 8.30pm that night in the toilet by the malls' CPS Chaps store.
Unbeknownst to Saroj, it was all a ruse. The student didn't show up, and he was left wandering near the restrooms marked as the meeting spot, providing ample photo-ops material for students who were lying in wait.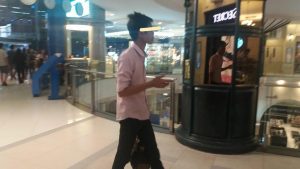 The Troll Students page admin said he's already submitted the photos to police as further evidence against Saroj, who was arrested Friday. He also suggested that he has more information to implicate Saroj that's being withheld.
"I'm not sure if we will publish more information, but most of the information we have already sent to police," the unidentified admin wrote in reply to a reporter's inquiry.
Teacher the Victim?
Saroj was arrested Friday evening after the allegations against him surfaced on social media. He's also been removed from his teaching post at Suankularb Witthayalai, while both the school and education authorities have launched separate investigations.
But Troll Students of Suankularb say the school administration is shielding Saroj from the full force of the law and minimizing the matter.
"We are not satisfied with the school's handling of the issue,"  the admin said.
On Saturday, school director Withoon Wong-in told Thairath in an interview that Saroj was in fact a victim of a fight between him and his ex-boyfriend, who tried to ruin the teacher's reputation by making false allegations against him.
According to Withoon, some photos on Saroj's Twitter were of him and his ex-partner, while other pictures were "photoshopped" by the ex-partner to make it look like he had sex with many underage students.
"The main objective for this act is to destroy reputation of the partner teacher as much as possible, because he's upset for betraying the love that he had devoted to him," Withoon said.
Withoon's remark were consistent with the narrative put forth by Saroj at a police news conference where he denied having sex with any minors. As for the captions on his Twitter photos boasting of anal intercourse with schoolboys, Saroj said it was just roleplay.
School deputy director Amnuay Chanhom said Monday that it's still too early to say for sure whether Saroj abused minors.
"The issue is still unclear. We have to wait for the investigation committee to decide," Amnuay said by telephone, adding that could take up to 15 days, "The places in the photos, where are they? What's the story? Who are they? Are they really underage? If they are, what schools are they from?"
Amnuay said he's heard Saroj is already out on bail, and he was scheduled to report Monday to another investigation panel set by the Office of Basic Education Commission.
Related stories:
Suspected Elite School Pedophile Now Denies Abusing Underage Boys