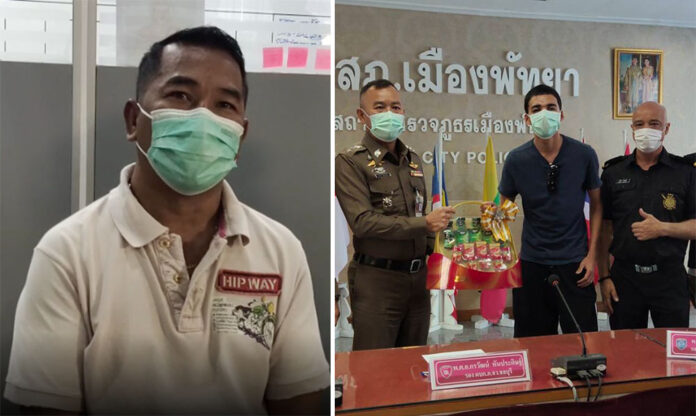 PATTAYA — Police on Thursday arrested a man who confessed to attacking a Chilean national in the resort town of Pattaya.
Amorn "Jeab" Boonmee, a motorcycle taxi driver, was apprehended at his home after he allegedly slapped and kicked Salvatore Andres Castromedina, 24, breaking his nose. Speaking at the police station, Amorn said he acted in a blind moment of fury because he was annoyed by the Chilean man.
"I apologize," Amorn said at the Pattaya City Police Station on Thursday afternoon. "I was annoyed at the tourist who came up to speak to me and I didn't understand what he was saying. He wouldn't go when I told him to. I'm someone who gets annoyed easily, especially at people who talk a lot."
The attack took place close to the red light district of Walking Street at about 2am Thursday. It was also captured on a security camera.
Police Col. Pisit Poonsap said investigators were still waiting for a full medical report of Castromedina's injuries in order to determine Amorn's charges.
"This incident has damaged the image of Pattaya and the country's tourism," Pisit said, attributing the cause to a "misunderstanding in communication. "We don't want these images to happen."
Speaking via an interpreter, Castromedina said this was his first time in Thailand. The man said he tried to ask the motorcycle taxi driver for a ride to Soi Buakhao prior to the incident.
The other person seen in the CCTV footage was Rittisak Kulsumaso, 45, another motorcycle taxi driver. Rittisak said he tried to stop Amorn from attacking Castromedina and turned himself into the police at noon.
Rittisak said he was also the one who brought Castromedina to the police to file a complaint.
"I really didn't want this to happen. It's already hard to make money," Rittisak said. "[Castromedina] had also been drinking alcohol."
At the station, police officers also gave Castromedina a basket of chicken essence soup and wished him a speedy recovery.