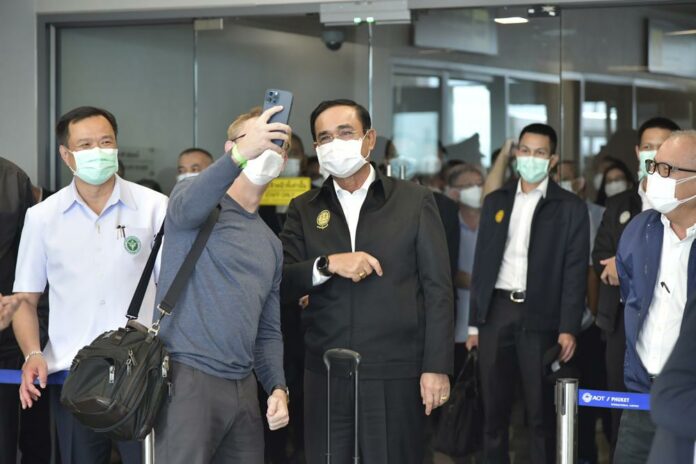 BANGKOK — Overseas travelers to Thailand, whether they are foreigners or Thais, may have to undergo mandatory quarantine again soon in order to stem the global spread of omicron variant of the coronavirus, Public Health Minister Anutin Charnvirakul said Monday.
Anutin told an interview show on Nation TV that he has already informed key officials in the ministry about the possibility of canceling the "Test and Go" program, which currently allows international travelers to forego lengthy quarantine, given that they are fully vaccinated and tested negative for the coronavirus upon arrival.
He justified the about-turn by citing the threats of the omicron variant, which is rapidly spreading in parts of the world.
"The situation about omicron is getting more severe," Anutin said. "Thailand already detected 63 cases of omicron infections, and 20 more to be confirmed."
The country will likely soon go back to reintroducing state-run quarantine for all arrivals from overseas, Anutin said, though he did not mention when.
"We have to quickly impose new measures to escalate our readiness," the minister said, adding that the government will increase efforts to provide booster shots for the population as protection against omicron.
A representative from the Ministry of Public Health later confirmed in a news conference on Monday morning that the "Test and Go" scheme is now being reconsidered.
Since Nov. 1, vaccinated travelers from one of the 64 countries and territories under the "Test and Go" policy only need to go through minimum quarantine in their hotel rooms to wait for their PCR test result. If they test negative, they can freely travel around Thailand.
The reopening was widely touted by the government as a remedy to the economic malaise in the country, where tourism used to make up as much as 20% of the economy prior to the pandemic.
But omicron is now threatening to upend those small hard-won gains. An increasing number of Thais have been detected with the new variant, which appears to be spreading much faster than any of its precedents. On Sunday, health authorities on Phuket island announced they found five more cases of omicron, including a Muslim pilgrim who recently returned from Mecca, Saudi Arabia.
Correction: The headline of this article was amended to reflect the nature of comments made by Public Health Minister Anutin Charnvirakul.