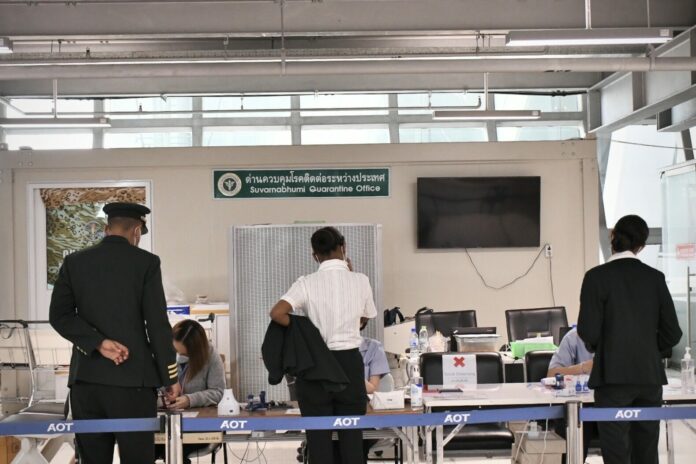 BANGKOK — PM Prayut Chan-o-cha on Tuesday afternoon said Thailand will no longer accept any further applications from international travelers for quarantine exemption until further notice, starting today.
Prayut said he gave the order to suspend the "Test and Go" program during a meeting with the government's coronavirus response center. Accordingly, the Thailand Pass system, which is required by travelers to forego quarantine provided that they test negative for COVID-19 on arrival, will stop accepting any new applications.
Digital economy minister Chaiwut Thanakamanusorn told reporters that about 90,000 potential travelers who already registered for Thailand Pass will still be allowed to arrive under the "Test and Go" scheme.
Government spokeswoman Ratchada Thanadirek also wrote on Twitter that current Thailand Pass holders can enter Thailand normally "until Jan. 10," though they will be subject to two PCR tests, instead of one. No further information is available as of publication time.
Speaking to the media at Government House, Prayut said another meeting will be held on Jan. 4, 2022, to deliberate whether to reinstate the "Test and Go" policy.
Today's decision by the government effectvely puts an end to short-lived tourism reopening which began on Nov 1.
Prayut justified the dramatic reversal of the policy by citing the needs to protect the public from omicron variant, which is rapidly spreading in many parts of the world.
"It spreads quickly, but it's not mild, though we have to keep our guard up," Prayut said.
He did not announce any further domestic restrictions, however, and went on to say that New Year's Eve fesitivities will be allowed to take place as planned, as long as event organizers strictly followed health protocols laid down by the Ministry of Public Health.
But any travelers who wish to enter Thailand after the suspension of Thailand Pass will have to undergo quarantine, Prayut said.
"We will go back to how it used to be, but whether the quarantine will last for 7 or 10 days, we'll have to discuss it," Prayut said at today's news conference.