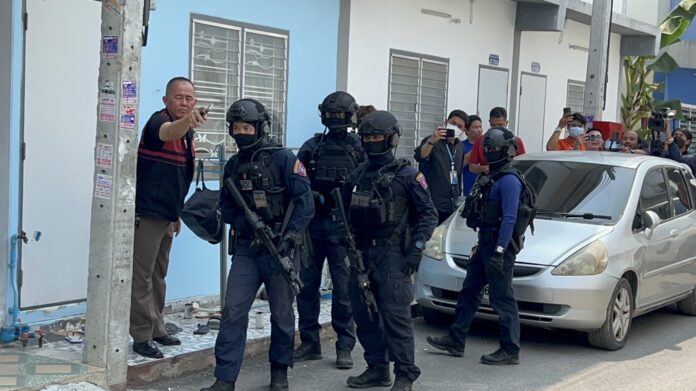 BANGKOK — Police are cordoning off an alley north of Bangkok on Tuesday after a disgruntled police officer fired multiple shots in a residential area.
Police identified the gunman as Pol. Lt. Col. Kitikarn Sangbun, 51, an inspector with the Special Branch Police's intelligence unit. Police commandos are surrounding his house on Soi Jiramakron in Sai Mai district as they are trying to convince the gunman to surrender. There is no report of any injury in today's shooting as of publication time, police said.
Sai Mai police superintendent Rangsan Sornsing said the gunman started firing his handgun from his house when his colleagues attempted to take him to hospital to treat his mental health issues after he had been absent from work for days. When his colleagues arrived with an ambulance, the gunman fired shots through the door, sending the crew scurrying for cover.
After hours of standoff, the gunman became more agitated and fired another salvo from his house. Police said they would not use force since the gunman is not taking any hostages or targeting any individuals. Members of the public were advised to stay clear from the area while the operation is ongoing.
Neighbors said they often heard Kitikarn getting into a heated argument with someone over the phone and sometimes he would fire shots into the air, causing panic in the neighborhood. Col. Rangsan of the Sai Mai police said Kitikarn has a history of mental illness, though his motive remains unclear.
Gun violence involving police officers is not uncommon in Thailand and oftentimes involves mental illness. In October 2022, 36 people, including 24 children, were shot and stabbed to death by an ex-police officer who got fired over drug use in the country's worst mass killing in modern history.
This is a developing story and may be updated without notice.