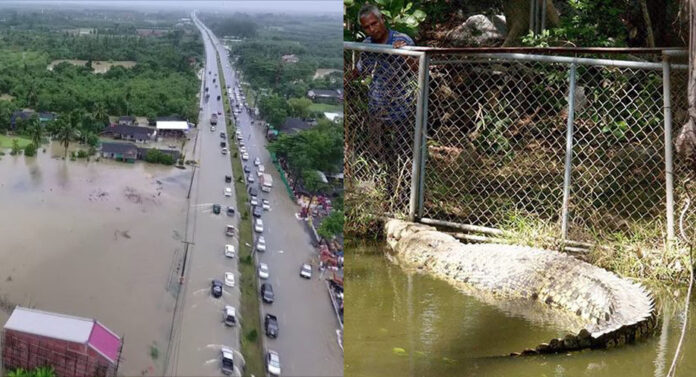 NAKHON SI THAMMARAT — A team of crocodile hunters were searching Friday for a five-meter croc named Nadia who slipped her bonds to escape captivity a zoo in the south of Thailand.
Friday morning's search had yet to find the renegade reptile whose liberation was aided when her Nakhon Si Thammarat province zoo was hit by the flooding which has ravaged the region, killing at least 36 people and disrupting the lives of more than 1 million.
When the Tha Lad Zoo flooded Wednesday, the crocodile was among a number of animals to escape their enclosures. Others drowned.
Neighboring residents have been warned the crocodile, imported from India, is on the loose.
Manas Pongnira, zoo vice president Zoo, could not be reached for comment. His secretary at the zoo said he was preoccupied with the search.
The Department of Fisheries helped round up a crocodile-hunting team to bring Nadia back. There's their own Nikom Suksawad, the zookeepers in charge of feeding Nadia, and local fisherman Suchart Tetnra.
For three hours on Thursday night, the team was boating around the flooded zoo. When they reached deep spots, they killed the engine and paddled, shining lights in hope they would reflect back from crocodile eyes peering over the surface of the water.
If found, Nadia will be tied up. If she resists capture they'll shock her with a low-voltage stun gun to numb her.
In the meantime, civilians and personnel uninvolved in the hunt are forbidden from entering the flooded zoo in case Nadia is still prowling around.
Related stories:
As Southern Flooding Eases, 22B Baht Price Tag For Repairs
More Flash Floods Expected as North-to-South Road Reopens
Young Girl Drowns in Southern Flooding, Surprise Storm Lashes Bangkok
Reform Assembly Members Donate 5,000 Baht Each to Aid Flood Relief Efforts
19 Die as Floods Continue to Submerge South
Malls, Airport Closed as Worst Flood in Decades Hit South
Absurd News Parody Brings Smiles to Flood-Ravaged South (Photos)