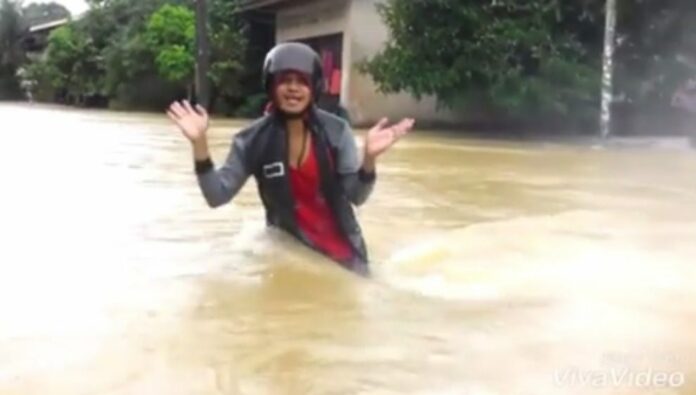 NARATHIWAT— As floods deluge Southern Thailand, devastate communities and drowned at least one man, some soggy smiles were found in the antics of an amateur news report skewering disaster-porn journalism.
Some of the heaviest rains in a decade have shut down rail service, shuttered dozens of schools closed and forced residents to travel by boat, and somewhere amid that all a Narathiwat man managed to find his footing to film a parody news report.
Waist- and then neck-deep in surging floodwaters, Facebook user Abdulhakim Kasing's fake news report has been watched more than 1.1 million times since it was posted Monday.
"Sawasdee kaa, Khun Kitti, right now I'm in the flood disaster zone," he says, yelling. "At this point, we have not received any relief packages. The citizens are in deep trouble. It's flooding and the waters are very strong. I can't take it anymore!"
Abdulhakim was apparently mocking the dramatic on-scene coverage of natural disasters in the South which cut back and forth with a field reporter and the serenely seated anchor Kitti Singhapud. The background music is Channel 3's ever-familiar breaking news theme.
While the video was being liked and shared, waters in Pattani continue to rise, rain continues to lash Trang and Phattalung provinces, and high waves caused boat accidents in Krabi which dumped tourists into the sea.  
Off the coast of Koh Phangan, a three-day old search for a missing Japanese tourist was suspended due to the weather.
Needless to say, the south is flooded.