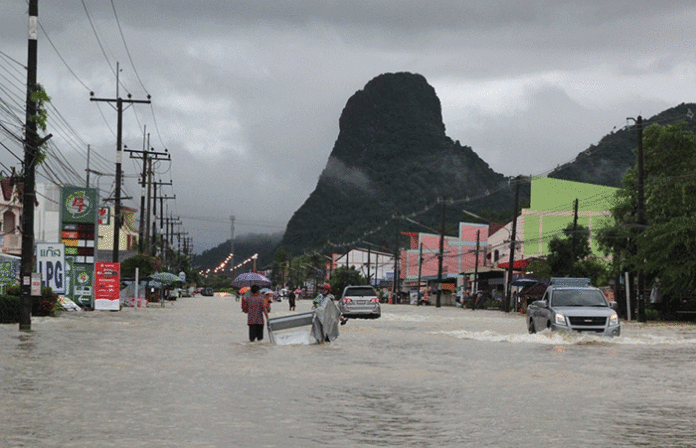 NAKHON SI THAMMARAT — Banks, schools, shopping malls and at least one airport in the south were forced to close Thursday by the ongoing flood crisis that has already claimed six lives.
Many of the flooded areas are popular tourist spots, such as Koh Samui in Surat Thani province, where a family of four narrowly escaped death last night when their wooden house collapsed due to the rain that turned its foundations to mud.
"I heard a loud noise and the house was shaking and leaning," 16-year-old Woraphol Kamranglaeng told reporters. "So I shouted at my two siblings to jump out of the house."
Read: Absurd News Parody Brings Smiles to Flood-Ravaged South (Photos)
The flood – the worst in 20 years according to local officials – prompted junta chairman Prayuth Chan-ocha to embark on an urgent visit to one of the provinces affected, while authorities scramble to evacuate residents trapped in their homes and re-open roads and rail tracks cut off by the deluge.
The worst-hit provinces, where rainfall covered over 80 percent of the area, were Phetchaburi, Prachuap Khiri Khan, Chumphon, Surat Thani, Nakhon Si Thammarat, Phang Nga and Ranong. Lesser affected provinces included Phuket, Krabi, Phatthalung, Narathiwat, Yala and Pattani.
The government disaster relief center said six people had died in the flood as of noon Friday. The crisis is expected to continue through the weekend; the Meteorological Department warned that heavy rain will only wind down Sunday at the earliest.
Much of Nakhon Si Thammarat, a key financial center of the southern region, was submerged, forcing major banks and shopping malls to close down. Its airport, which links Bangkok with many islands frequented by tourists, was also shut down. Officials hope to resume flight in the next few days.
Hospitals in the province resumed operation as normal, but their directors told the media they would move their patients if floods did not subside in the coming days.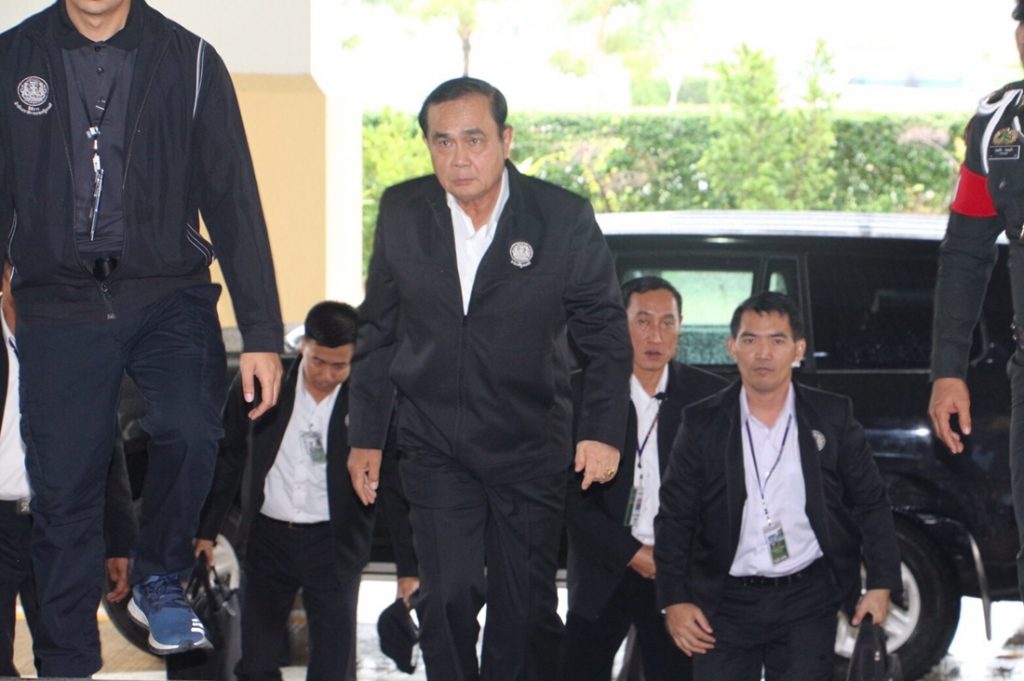 In Phatthalung, south-bound trains had to be stopped because the railtrack has been damaged by the flood in at least 37 spots, needing urgent repairs.
Elsewhere, schools closed down and the army had been deployed to evacuate residents from their homes or hand out relief supplies. More than 160,000 households have been affected by the flood, according to a Friday government report.
Anyone needing assistance is advised to call a government hotline at 1784.
In his visit to Narathiwat, junta chairman and Prime Minister Prayuth attended a flood relief meeting with key members of his cabinet, such as the ministers of interior affairs, agriculture, transport and tourism.
Some private businesses offered support to those affected by the flood. CentralPlaza shopping mall in Nakhon Si Thammarat invited members of the public to use its elevated parking structure for free, while a hotel in the province announced that residents forced to leave their homes could stay there at no cost.
Also going viral on social media were foreigners on Koh Samui who put a stoic face on their fun in the face of the deluge by cruising down flooded streets on floaties.
…ท่วมขนาดนักท่องเที่ยวหันมาชิลๆกับมันได้เลยนะ หาดเชิงมน สมุย pic.twitter.com/Q0Spw3smef

— T u A L a X 👽♩ (@TuaLax) January 5, 2017